STORY UPDATED: check for updates below.
The problem with being one of the most widely known writers of fake news stories (that often include your own name) is that nobody will believe a story about you anymore. So when we began seeing online reports about the death of fake news superstar Paul Horner last week our first reaction was sceptical.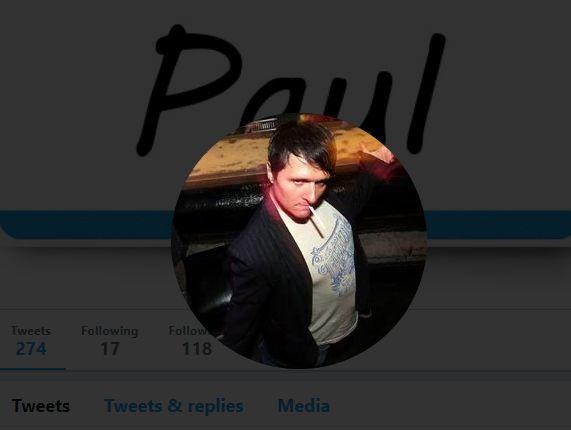 It seems the initial report came on September 22nd 2017 with this Facebook post (archived here) from JJ Horner, Paul's brother:
The same post (archive) also appeared on his Instagram account:
Based on the Facebook post local newspaper Phoenix New Times wrote an article (archived here) titled "Family: Comedian and Internet Hoaxster Paul Horner Has Died". The article said the paper had been in touch with JJ Horner:
JJ told Phoenix New Times that the cause of his brother's death is currently undetermined pending results from the Maricopa County Medical Examiner.

"It's too early to tell. There's nothing official or anything," JJ says. "He died in his sleep and it was a painless death. Whatever happened, it's kind of irrelevant at this point."
But the paper later added an update to the story indicating they weren't entirely convinced by the report either:
Update: Phoenix New Times contacted the Phoenix Police Department on Friday, September 22, and Saturday, September 23, but requests to confirm Paul Horner's death have not been answered as of this writing. New Times has also reached out to the Maricopa County Medical Examiner's office, but it is closed until Monday. We'll update as soon as more information is available.
We are not sure confirmation can even be obtained in this way. The Arizona Department of Health Services website says:
Arizona is a 'closed record' state. That means that vital records are not public record. Arizona law restricts the public's access to vital records to protect the confidentiality rights of our citizens
Another site reporting on the death of Paul Horner is satirical fake news website The Nevada County Scooper in an article titled: "Famous Satirist and Fake News Provocateur Paul Horner dead at 37" (archived version). That story opened:
Phoenix, AZ -- According to relatives close to Paul Horner, the famous satirist, fake news provocateur, and anti-masturbation champion has died at the age of 37. Mr. Horner has been referred to as a "hoax artist" by outlets such as the Associated Press and the Chicago Tribune. PolitiFact and the Washington Post have both called him the Internet's most prolific hoax artist. He was accused of being street artist Banksy twice and was known for his Search Engine Optimization (SEO) wizardry, which allowed him to single-handedly out-game the Internet's biggest search providers like Google, Yahoo, and Bing.

Details are slim regarding the demise of the huckster, but according to people close to Mr. Horner, tensions began to arise between him and his long-time partner Fappy the Anti-Masturbation Dolphin after a series of "fake news" talks the comedian had with the European Parliament and various news outlets over the past few months. Conflict arose between his share and Fappy's share in the enterprise. Each planned to poison the other's water, but dolphins are smarter and quicker, experts tell the Scooper.
One commenter by the name of "Joshua Schadenfreude" added this below the article:
Some people think Andy Kaufman faked his death 30 odd years ago. Elvis too. I would like to think they are all down at Hitler's place in South America laughing at and mocking us.
By coincidence (or not, who knows) one day before he allegedly died Paul Horner wrote to me by email (a few days after I wrote an article about him launching a new website):

The email address checks out (Horner's been known to have used it before in WHOIS records etc) and Gmail's DKIM checking feature seemed to confirm the mail is genuine too. The phone number was also used previously in WHOIS records and is also the listed number for Sock It Forward, Horner's charity that hands out socks to the homeless.
No reply was received when I emailed back last week to accept the offer. The phone number went to voicemail when I tried calling it this weekend and yesterday. I also sent a text message before I was aware of the existence of the Facebook posts and articles and got following reply: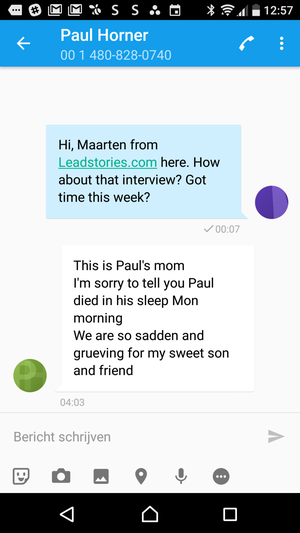 So, is this the end of Paul Horner? Or is he faking his own death? Let's list the evidence.
Clues it might be real:
Horner's sites seemingly all have stopped publishing since September 14th. Many of them hadn't been posting actual fake or satire articles for a long time but they were still being updated with advertorial advice and tips articles on a regular basis. All of that has stopped.
Same for his social media presence as far as we can tell. Nothing on his Facebook page or Twitter account.
The brother's posts and the outpouring of seemingly real comments.
Clues it might not real:
Horner has been known to involve his mother in his pranks and hoaxes, often using her name (Joyce Barth) for various characters in his stories. His brother was also regularily featured on at least one of his sites. So they could be in on it.
The fact that it took almost a week for the Facebook and Instagram posts to go up seems strange.
There is no obituary anywhere (except for the article in the Phoenix New Times which also expresses doubts).
There is no mention anywhere we could find of a funeral or a wake.
There seems to be an edit war going on over Paul Horner's Wikipedia page, where they call the news 'likely bogus'.
It wouldn't be beyond Horner to pull off such a prank. On his autobiographical bio page he brags about another prank he pulled on his dad:
For two years I convinced my dad I was a raging homosexual

My dad hates gay people and minorities, so I've recently convinced him that I'm gay now. Here's a picture I sent him the other night, supposedly of my boyfriend and I, wishing him a happy New Year. Waking up the next morning hungover, I forgot I did this. But I was soon reminded by at least 10 angry messages saying how disappointed he was and how he doesn't want anything to do with me. I'm so sad I couldn't have found a big black dude to take the picture with, that would have been way better.

He finally figured it out that I am indeed straight... Really bummed me out. I don't think there is anything better than having a crazy Fox News, Bible-Thumper believing his son is super gay.
I have long hesitated about attempting to contact Paul's mother and brother before writing this story but I decided against it for two reasons:
If the story is not fake it would only increase their grief and they would just confirm it was true.
If the story is fake they would definitely be in on it so they would also confirm it was true.
So, is Paul Horner dead? We honestly don't know. Which is tough to admit for a fact checking website. Paul, if you are not reading this: it speaks volumes to your legacy. On the other hand, if you are reading this, well played sir!
2017-09-26T15:07:31Z

2017-09-26T15:07:31Z

Although we are heartbroken at Lead Stories, we take a little comfort from knowing this was Paul's last tweet:

@LeadStoriesCom Digging what ur doing! I contacted you through your site and it bounced back. If you want an interview, please contact me!

— Paul Horner (@RealPaulHorner) September 17, 2017

We dug what you were doing too, Paul. And if we ever get a chance we'll do that interview, promise.

2017-09-26T14:39:12Z

2017-09-26T14:39:12Z

The Phoenix New Times also

updated their article

, which now reads:

Update: Phoenix New Times spoke with the Maricopa Medical Examiner's office on Monday, September 25, and confirmed Paul Horner's death. New Times has also reached out to the Maricopa County Sherrif's Office for more details regarding the case but have not heard back as of this writing. We'll update as soon as more information is available.

2017-09-26T13:57:04Z

2017-09-26T13:57:04Z

Unfortunately

AZCentral confirms the news is true

:

Maricopa County Sheriff's Office spokesman Sgt. Calbert Gillett told The Arizona Republic that Horner's death was still under investigation Monday and would not rule out foul play or impairment. He died in the Laveen area of southwest Phoenix.