An article appeared on fake news website World News Daily report which claimed in the title that the "FBI seizes over 3,000 penises during raid at morgue employee's home". The story opened:
FBI agents made an astonishing discovery this morning while executing a search warrant at the residence of a Houston mortician: 3,178 embalmed human penises.

The Federal Bureau of Investigation suspected 54-year old Dave Murray, an employee of the Harris County Morgue, of being implicated in an organ trafficking network.

Investigating several reports of missing organs and body parts, dozens of agents raided his residence this morning, hoping to find evidence of his involvement in the crimes.

What they found on the site was a lot more disturbing than what they expected, as the FBI spokesman Andy Ramirez described the scene in an interview with WNTV-4.

"There were shelves everywhere, filled with hundreds of glass jars. Each of them contained a penis floating in formalin."
There is no television station named WNTV-4 and Dave Murray does not exist. The picture used with the story was probably found by searching for "bad haircut mugshot" or something similar on Google Images. (Most World News Daily Report stories that feature a mugshot are using fake ones probably sourced via Google image search).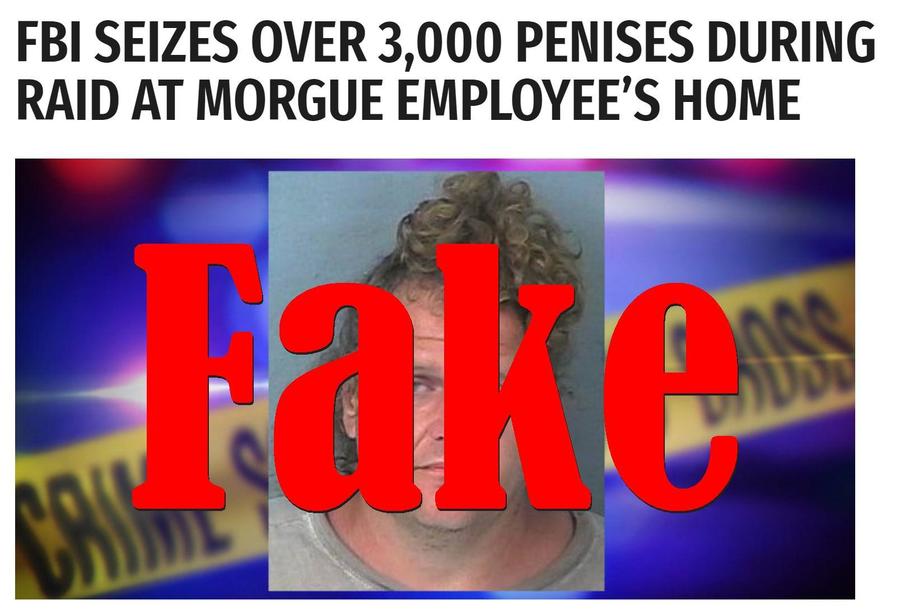 The website World News Daily Report is a well known hoax website specialized in posting hoaxes and made up stories. The disclaimer on their website is pretty clear about that even though you have to scroll all the way down the page to find it:
World News Daily Report assumes all responsibility for the satirical nature of its articles and for the fictional nature of their content. All characters appearing in the articles in this website - even those based on real people - are entirely fictional and any resemblance between them and any person, living, dead or undead, is purely a miracle.