STORY UPDATED: check for updates below.
A fake news website named city-herald.com designed to look like a regional news source published a story (archived here) titled "BREAKING: Former English football star Gordon Banks dies at 79". It opened:
Former England international football goalkeeper, Gordon Banks has died. He died Wednesday afternoon at his home in Sheffield, England. He was 79.
His death was confirmed by his spouse, Ursula, who said the England World Cup-winning goalkeeper battled with kidney cancer for years. "He lost one kidney to the disease 12 years ago and was on medication with the other kidney affected," the wife said.
Most of the article appears to be directly copy pasted from the wikipedia article about Gordon Banks. No mainstream news site has mentioned anything about the death of Gordon Banks and neither has his official website. According to whois.com information the site city-herald.com was only registered in May of this year, making it barely five months old.
DOMAIN INFORMATION
Domain:city-herald.com
Registrar:WILD WEST DOMAINS, LLC
Registration Date:2017-05-31
Expiration Date:2018-05-31
Updated Date:2017-05-31
It seems unlikely such big news would break on an unknown small website and that is why we are going to go ahead and say this is fake news. Also because the Stoke City Old Boys Association just posted this to Facebook: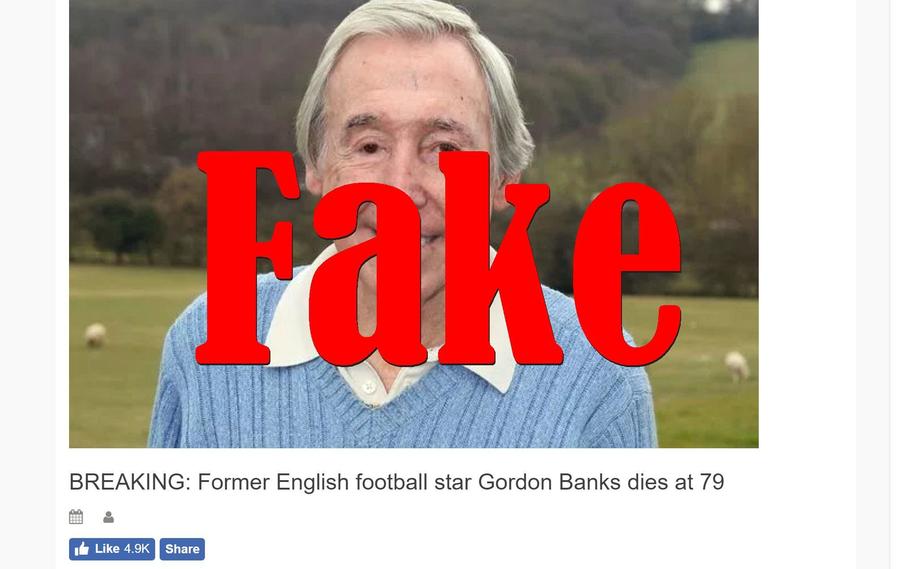 The site appears to be part of a network of fake news websites that all have normal looking front pages with some generic news stories taken from other websites but which frequently publish hoax articles on other parts of the site that aren't immediately obvious to visitors. Some othe sites we've identified as part of the network by comparing advertising and analytics tags present in the page source include:
cbn-tv.com
cnn-channel.com
fox-news24.com
metro-uk.com
news.cbn-tv.com
online.read-news.com
states-tv.com
meganews360.com
parliaments.eu
Note that Banks has been battling cancer for several years so it wouldn't be totally implausible for him to die. But in that case the news would be spread through official channels and not via an obscure website that doesn't even list a publisher or contact information.
2020-02-13T15:16:12Z

2020-02-13T15:16:12Z

Update: Gordon Banks died on February 12, 2019. He was 81 years old.

2017-10-05T06:45:19Z

2017-10-05T06:45:19Z