Satire website 8shit.net published an article titled "McDonald's Will Start Putting Memes In Happy Meals". The story opened:
United States.-- The CEO of the fast food restaurant Steve Easterbrook, announced today that McDonalds will be putting memes in their happy meals to make them even happier. This, followed by an incident where a man sued McDonalds because he was still sad after eating a happy meal.

"They are supposed to be happy meals, and what makes you happier than a meme?", stated Easterbrook in a press release. He kept going: "Memes have changed our world. They are everywhere and most companies use them. Now we'll be delivering them directly to our clients!".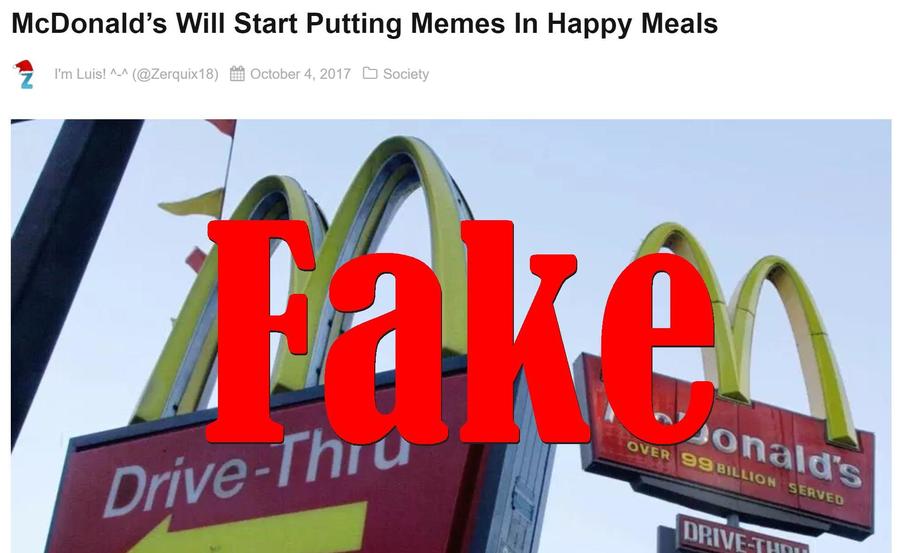 None of it is true. A search on the official website for McDonalds doesn't turn up any result for "meme" or "memes". Nor does a search of the official press releases from McDonalds. And the story about the man sueing McDonalds for still being sad after eating a happy meal originated on the same site meaning it is also false since 8shit.net carries a disclaimer on its about page that reads:
8Shit is a satire and humor website.

It contains cutting edge satire on a diverse range of topics.

The website publishes fake news, shocking rumors and reports with incisive sarcasm, and humor.

We also post crazy real news which often sounds too good to be true.
In this case it must have been "cutting edge satire" since it definitely wasn't "crazy real news".