A network of fake news sites is publishing articles titled "New Star Wars Movie Filming Near [Town], [State], Large Number of Extras Needed". The template for the stories is almost always:
[TOWN], [State] - Reports out of Hollywood this morning are confirming that a portion of the next Star Wars movie will be filmed near [Town], [State]. The undisclosed location near [Town] will represent a previously unknown planet in the Star Wars universe.

No details were released as to exactly when production would take place in the [Town] area but they stated that it should begin no later than next spring. A casting call for extras will be announced well before that time period, however. Local fans of the film series were understandably excited about the news and especially excited about the prospect of becoming an extra in the film after producers made this short statement released to the press earlier today:

"We think that [Town] is a great place to find the hundreds of extras for our alien population and we're very excited about filming here."

Let us know what you think about this exciting news in the comments section below.
Recently the story has been about Defiance, Iowa but also Vista, California or Waterloo, Iowa. Check the "Related Stories" section at the bottom of this page to discover more recent examples of the story.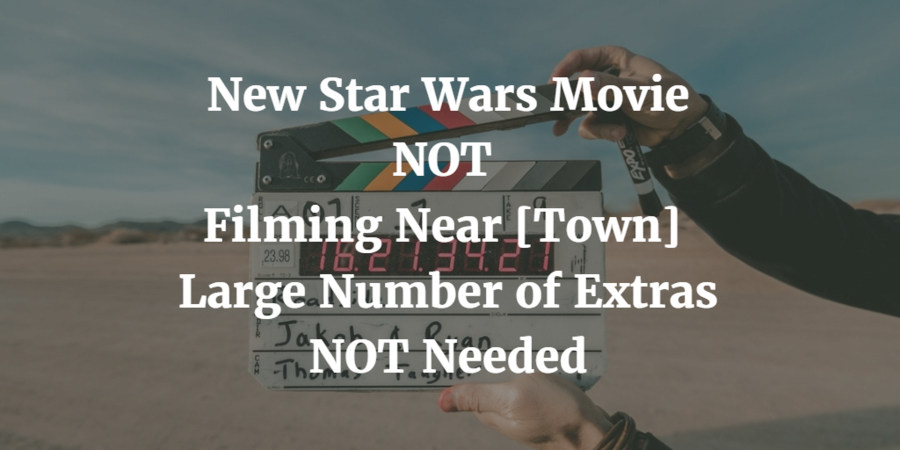 The network of fake sites that is pushing the story has a history of repeating the same story over and over again with different location details. Check this example of a story about various celebrities having car trouble in several small towns all over America which the network is also spreading. All sites are designed to look like local news outlets but without identifiable contact or location information.
Sites in the network indentified by Lead Stories seem to include:
kbc14.com
kfl3.com
kqry4.com
krb7news.com
krgc11.com
newsdaily12.com
newsnow11.com
wasb27.com
wbn12.com
wky12.com
wnpe6.com
wrpm33.com
wtsg24.com
www.kbr31.com
www.kcst7.com
www.kcto9.com
www.newsdaily29.com
www.newsnow3.com
www.wbn10.com
www.wca4news.com
www.wcrk35.com
www.westfieldpost.com
www.wfrv9.com
www.wko21news.com
www.wnpe6.com
www.wyne8.com
wyne8.com
Some of the sites include a 'satire' disclaimer on their about page, for example:
DISCLAIMER:
wky12.com is a satirical website. Most articles on this website are works of fantasy or satire and are not true. This website is meant for entertainment purposes only.
If you see a story coming from one of these sites you should be very careful before you share it online. Use google or another search engine to search a part of the title first (omitting the location and/or celebrity name) and see if identical stories pop up naming other places and people. If there are indeed such stories you can congratulate yourself on avoiding a piece of fake news. Spread the word!