Unreliable website YourNewsWire strikes again with a story titled "Katy Perry: 'Human Flesh Is The Best Meat; Cannibalism Got A Bad Rap'" which opened:
Human flesh is the finest meat in the world, according to Katy Perry, who puts the "exquisite flavor" of the meat down to "the taboo nature of the product" and the fact that "forbidden pleasures are always the most delicious."

Going as far as to claim that cannibalism is "way more popular than you might think", Katy Perry also claimed that "so many people in Hollywood tell you that human meat is the best, the absolute best, meat in the world."

Speaking on French radio, the Bon Appetit singer also claimed cannibalism has "gotten a bad rap" due to "squeamish Christians and their hypocritical virtues and morals", but consuming the flesh of humans is actually "super healthy and good for you."

"There are life-enhancing vitamins and minerals in human flesh that you can't get from animal meat," Perry claimed.
The story doesn't mention which station on "French radio" supposedly carried the interview but there are no reports in the French media about any such claims made by Perry. If she had really made these claims they would be all over the internet by now but we were unable to locate even a single recording of the supposed interview. So we are going to go ahead and rate this claim as fake.
Cannibalism by itself is not illegal according to Cornell's Legal Information Institute:
Cannibalism is the consumption of another human's body matter, whether consensual or not. In the United States, there are no laws against cannibalism per se, but most, if not all, states have enacted laws that indirectly make it impossible to legally obtain and consume the body matter. Murder, for instance, is a likely criminal charge, regardless of any consent. Further, even if someone consents to being eaten and kills himself, the cannibal may still be liable for criminal or civil actions based on laws governing the abuse or desecration of a corpse, which vary from state to state.
The story describes a dinner party where Perry supposedly ate human flesh so depending on the exact source of the meat and the location of the dinner party this could be construed as an accusation of breaking the law and so Perry's lawyers might have a case to go after the website for posting the story.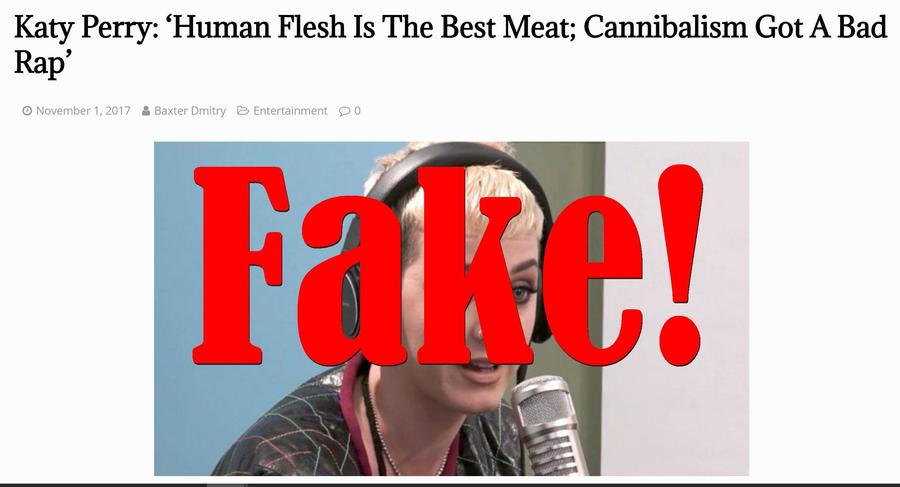 YourNewsWire has published several hoaxes and fake news articles in the past so anything they write or publish should be taken with a large grain of salt. They don't even stand behind the truth of their own articles since the terms of service on the website explicitly say:
THE PEOPLE'S VOICE, INC. AND/OR ITS SUPPLIERS MAKE NO REPRESENTATIONS ABOUT THE SUITABILITY, RELIABILITY, AVAILABILITY, TIMELINESS, AND ACCURACY OF THE INFORMATION, SOFTWARE, PRODUCTS, SERVICES AND RELATED GRAPHICS CONTAINED ON THE SITE FOR ANY PURPOSE.
The site was recently profiled in the Hollywood reporter where it was described as:
Your News Wire, a 3-year-old website of murky facts and slippery spin, is published by Sean Adl-Tabatabai and Sinclair Treadway -- a Bernie Sanders supporter in 2016 -- out of an apartment in L.A.'s historic El Royale.
RationalWiki described it as:
YourNewsWire (styled as YourNewsWire.com[1]) is an Los Angeles-based clickbait fake news website known for disseminating conspiracy theories and misleading information, contrary to its claimed motto ("News. Truth. Unfiltered").[1]
A while ago we also reported that YourNewsWire had rebranded itself as NewsPunch by changing its domain name in an apparent effort to evade filtering/blocking. It appears the site has changed back to it's old name in the mean time but you can still see the NewsPunch name in the contact email address in the footer.