Famous fake/satire website Reagan Was Right posted an article titled "BREAKING: Roy Moore's Lying Accuser Admits He Didn't Ever Touch Her" which opened:
...and then it all came crumbling down.

Liberals have been attacking Judge Roy Moore relentlessly after a fishy story surfaced alleging that he sexually abused a 14-year-old girl decades and decades ago when the now-76 year old man was in his early 30s. Unfortunately, like most of their bombshell stories about people they don't like, this one didn't pass the smell or the reality test.

After the publicity began to die down and Harley Hannah, Moore's accuser, began to get tired of lying all the time, she finally admitted the truth during an interview on MSNBC.

"It was like a bad dream," she told host Dan Fitzpatrick. "I don't really remember what happened but my mind filled in the gaps."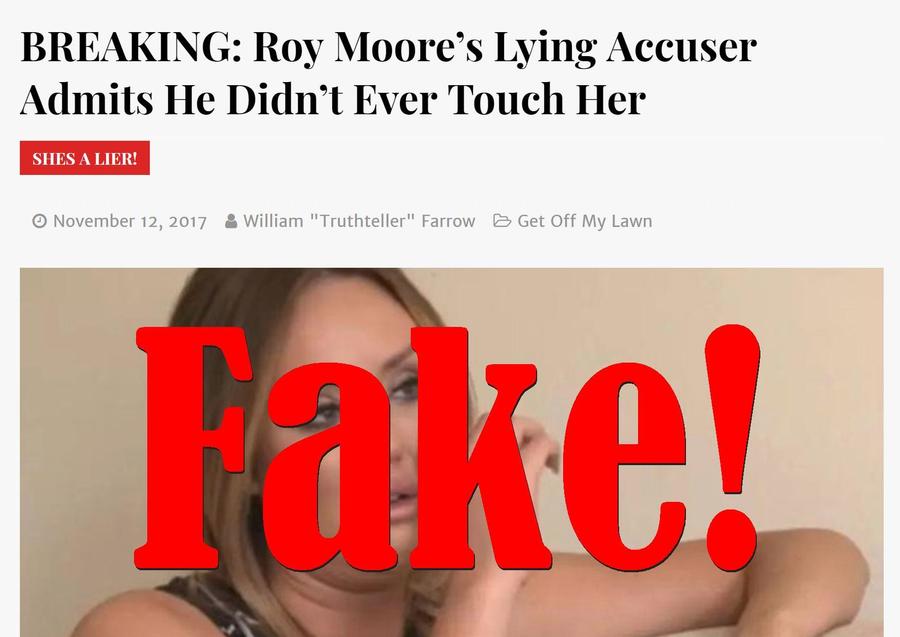 There never was any interview on MSNBC and Harley Hannah is not even one of the named women accusing Roy Moore of sexually inappropriate behaviour. The actual named women accusing Moore are:
Leigh Corfman

Beverly Young Nelson

Tina Johnson

Gena Richardson
We are not sure who the Harley Hannah mentioned in the story is, but we did find a New York conceptual artist by that name. But she was still in college until just a few years ago so she wouldn't have been 14 when Moore was in his late thirties because she probably wasn't even born yet.

The image used with the story is also entirely unrelated to the Roy Moore abuse allegations: it shows reality TV star Charlotte Crosby who is crying during an interview about a breakup and a troubled pregnancy.
The entire article is clearly intended to be satirical in nature since Reagan Was Right carries following disclaimer on all pages:
ABOUT REAGAN WAS RIGHT

The crybaby, ivory tower elitists at Snopes have decided we don't qualify as satire, but we feel the disclaimer still needs to be as plain as the lack of Googling skills in conservative America:
________
sat·ire ~ˈsaˌtī(ə)r
noun
the use of humor, irony, exaggeration, OR ridicule to expose and criticize people's stupidity or vices, particularly in the context of contemporary politics and other topical issues.
________
Sorry, Snopes. Nowhere does it require that satire be funny or meet the standards of people with stickintheirassitis. Please stop "fact-checking" fiction with opinionated, emotionally charged hit-pieces and report the whole story.
________
Nothing on this site is real. It is satire. Call it "fan fiction" if you prefer. If you want to see what it is REALLY about, join us on Facebook
The owner and main writer of the site is self-professed liberal troll Christopher Blair, a man from Maine who has made it his full time job to troll gullible conservatives and Trump supporters into liking and sharing his articles. He runs several other websites such as godluvsamericamost.org and thelastlineofdefense.online. Sometimes he is also known under his nickname "Busta Troll". Other pen names found on his sites include "Freedom", "Captain Jellypants", "Butch Mannington" or "Captain Buck Atlantis".
Articles from Blair's sites frequently get copied by "real" fake news sites who often omit the satire disclaimer and any other hints the stories are fake. Blair has tried to get these sites shut down in the past but new ones keep cropping up.
If you see one of his stories on a site that does not contain a satire disclaimer, assume it is fake news. If you do see the satire disclaimer it is of course also fake news.