Satirical website Duffel Blog published a story titled "Saudi Arabia beheads first female robot citizen" on November 9th 2017 which began:
RIYADH, Saudi Arabia -- The number of robot citizens in Saudi Arabia was reduced back to zero today after Sophia Robot was beheaded in a public square in Riyadh.

Sophia made news recently when Saudi Arabia granted her citizenship, making her the world's first robot to gain such legal status.

Sophia became the first robot citizen to be executed after a band of angry Saudi men dragged her into the streets earlier today for a public execution, setting yet another milestone for progress in the country.

The crowd first began stoning her, but upon finding her carbon fiber exoskeleton was more durable than thought, they then tied a chain around her neck and the other end to a trailer hitch, driving her through the streets until her head became separated from her body.
As Fortune and others reported on October 26th 2017, a Sophia, a humanoid robot was indeed given citizenship in Saudi Arabia as part of a publicity stunt at the Future Investment Initiative in Riyadh. But the story about the beheading is fake.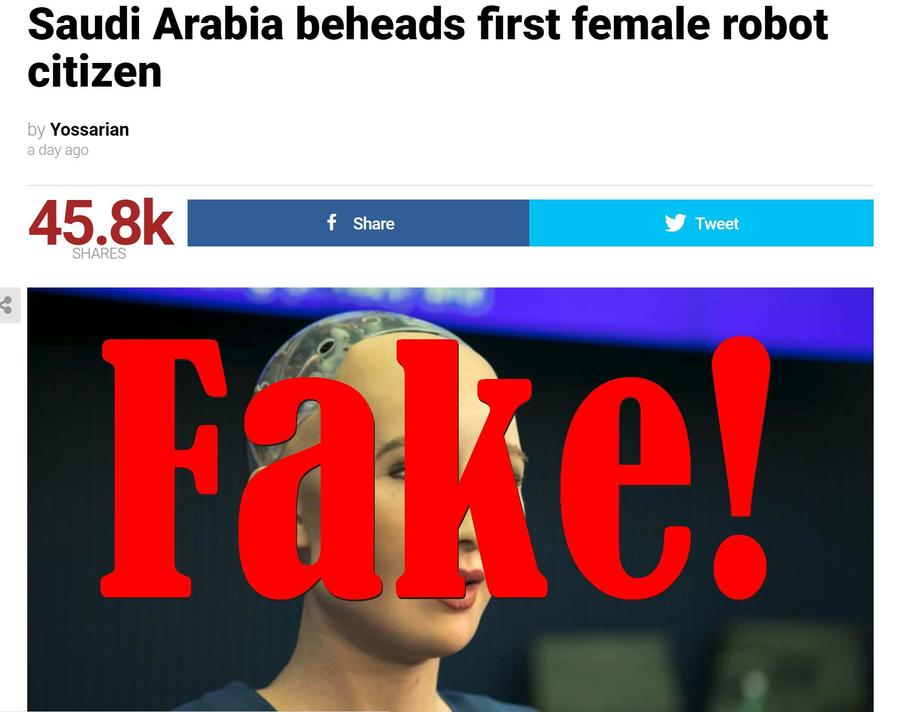 Duffel Blog is a satirical publication with following legal disclaimer on the 'about' page:
We are in no way, shape, or form, a real news outlet. Everything on this website is satirical and the content of this site is a parody of a news organization. No composition should be regarded as truthful, and no reference of an individual, company, or military unit seeks to inflict malice or emotional harm.

All characters, groups, and military units appearing in these works are fictitious. Any resemblance to real persons, living or dead, or actual military units and companies is purely coincidental.
That didn't stop thousands of people from liking, sharing and commenting on the story as it played to various stereotypes about Saudi Arabian culture and was believed by many people to be real. We found several examples of that on Twitter:
Way to go you fuckin morons
Saudi Arabia never fails to amaze me https://t.co/71tAnZLH9l

-- Seth Sinclair (@kareem_ktc206) November 10, 2017
This is the world that we live in! https://t.co/wJhovYoplp

-- SuproDCrazy03 (@s_Dcrazyguy05) November 10, 2017
Whore of Babylon. Please read Revelation 17 & 18. If your a Christian living or intending on visiting. Now might... https://t.co/axRqh6HUxK

-- Trinny (@Trinny61) November 10, 2017
Of course many people also understood it was just satire. But stories like these have a tendency to get picked up and copied by "real" fake news sites without satire disclaimers eventually. So if you came here looking for information about a copied version of the story, rest assured it was just a joke.