A story has been making the rounds on social media and various websites about a 35-year-old Chinese man named "Wong" or "Wang Qiang" who supposedly went to a fish spa with his girlfriend and ended up killing all the fish because he hadn't washed his feet in ten years.
We picked up the story via 8shit.net where it appeared (archive) under the title "35-Year-Old Man With Stinky Feet Goes To A Fish Spa, Ends Up Killing All The Fish". The story there opened:
A 35-year old man in Beijing China, whose name is Wong, went for a fish spa session to relax, but ended up killing all the fish, Buzzflare reported.

According to World of Buzz, Wong has been working in an IT company for over 10 years and since he works overtime almost every day, he almost never has time for himself.
8shit.net does come with a disclaimer at the bottom of the page that says:
8Shit is a satire news and humor website. All its content is fiction (except those posts under the "serious" category) and shouldn't be taken as real. All references, names and marks or institutions in this website are used as contextual elements, like in any novel or science-fiction story.
In this case the article was filed under the "Society" category so we have to assume the story is fictional.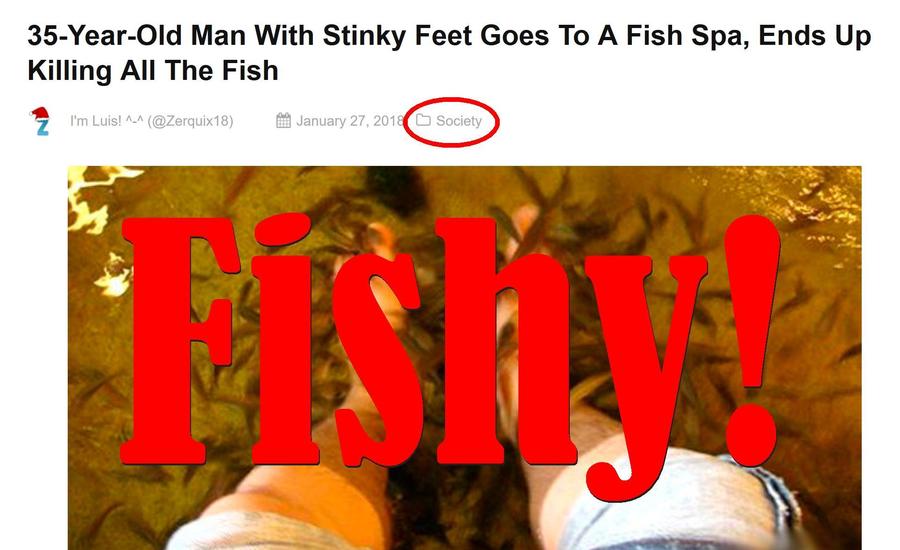 However the story points to this Buzzflare article (archive) as the source and that one references this story at World of Buzz (archive) which in turn pointed to a (now deleted) article on Sina as the original source. Fortunately a version of the article was still available in the Google cache (archived here).
In that version of the story the name of the man is "Wang Qiang" and no location for the story is given. It also sounds more like a morality tale teaching a lesson about body hygiene instead of a real news report.
The original Chinese version of the article ends with this disclaimer:
(特别声明:以上文章内容仅代表作者本人观点,不代表新浪看点观点或立场。如有关于作品内容、版权或其它问题请于作品发布后的30日内与新浪看点联系。)
Or, according to Google Translate:
(Special Statement: The contents of the above articles only represent the author's own point of view, does not represent Sina point of view or position. For content, copyright or other issues, please contact the Sina within 30 days after the publication of the work)
Given that the original story has now been deleted and that the originating site already had a disclaimer on the story saying they couldn't vouch for the authenticity we are going to assume this story is false.