A post that went viral on social media and which was already debunked by Snopes has now been re-used by "fauxtire" site Huzlers to promote an article (archived here) titled "Tide Confirms Tide Pods To Be Discontinued After Several Death Due To "Tide Pod Challenge"" which opened:
Tide announced that it will be discontinuing their Tide Pods products due to many injuries even several deaths because of a social media trend called the "Tide Pod Challenge".
A new wide range of Tide products will soon replace Tide Pods will me less tasty version that will be less desirable to eat said Tide Pod CEO David Taylor, Alo Tide Pods in Turkey, Vizir Tide Pods in Poland, or Ace Tide Pods in some Latin American countries will also be discontinued. The discontinuation will go into effect as of February 1st, 2018.
If the attrocious spelling didn't tip you off, the author of the article also claims to have spoken with a "Ian Cluth", supplosedly one of the first people to have done the "Tide Challenge" (but we haven't been able to verify this). He could not comment because of "brain damage" from doing the "get hit in the he with a bat challenge". And David Taylor is CEO of Procter & Gamble, not of "Tide Pod" ("Tide" is just one brand owned by Procter & Gamble) .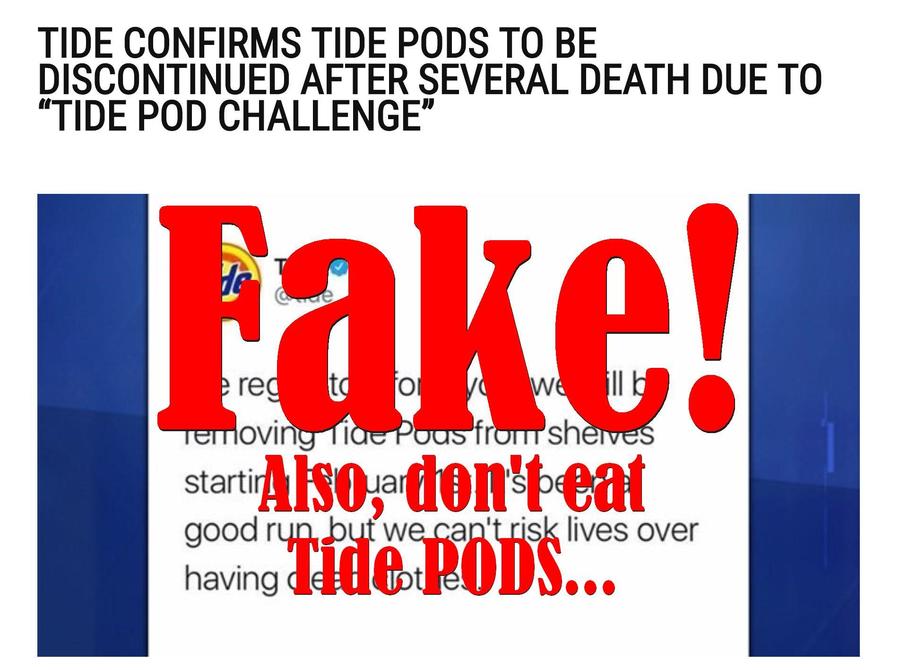 Also, you should really not eat Tide PODs according to Tide itself:
What should Tide PODs be used for? DOING LAUNDRY. Nothing else.

Eating a Tide POD is a BAD IDEA, and we asked our friend @robgronkowski to help explain. pic.twitter.com/0JnFdhnsWZ

-- Tide (@tide) January 12, 2018
Huzlers styles itself as a "fauxtire" website and carries a disclaimer at the bottom of each page:
Huzlers.com is the most infamous fauxtire & satire entertainment website in the world. If it's trending on social media you'll find it here!
According to Splinter News the site is run by Pablo Reyes and David Martinez and according to Buzzfeed Reyes is involved with several other fake news websites. They tend to shy away from political stories, opting instead to write for a more "urban" audience, with stories about rappers, criminals and celebrities.