Fake news and conspiracy website YourNewsWire published an article (archived here) titled "Fire Dept: Room Full Of Servers, Hard Drives Destroyed In Clinton House Fire", which opened:
A room full of servers and hard drives was destroyed in the Clinton house fire in Chappaqua, New York, on Wednesday, according to a Chappaqua Fire Department source, raising fears that incriminating evidence against the Clintons has been destroyed just days after a White House insider warned that Trump was preparing to prosecute their crimes.

"I saw smashed up hard drives, melted memory cards and the charred remains of paper scattered all over the room and immediately knew the fire must have started there," a Chappaqua Fire Department source told local news reporters, explaining that the house fire was "put out by Secret Service agents" before the Fire Department arrived.
The story fails to identify the "local news reporters" and lists no name for the "Fire Department source". The image of the "burned server" used to illustrate the story actually comes from the website of KrollOntrack, a company advertising data recovery services (including from fire-damaged computers). An actual news report from local news source lohud.com makes no mention of servers or papers and indicates the fire wasn't even in the actual Clinton house:
The small fire started in the second-floor ceiling of a facility used by the Secret Service, which is in a detached structure behind the Clintons' home, the Secret Service said in a statement.

The fire was put out by fire extinguishers, and firefighters inspected the area to ensure it was completely out, the Secret Service said.
So it is pretty safe to say the story about the servers and the hard drives is a hoax, especially given the reputation of YourNewsWire. The site has published several hoaxes and fake news articles in the past so anything they write or publish should be taken with a large grain of salt.
Their articles are often copied by other fake news sites or conspiracy-related Youtube channels, in many cases without proper attribution.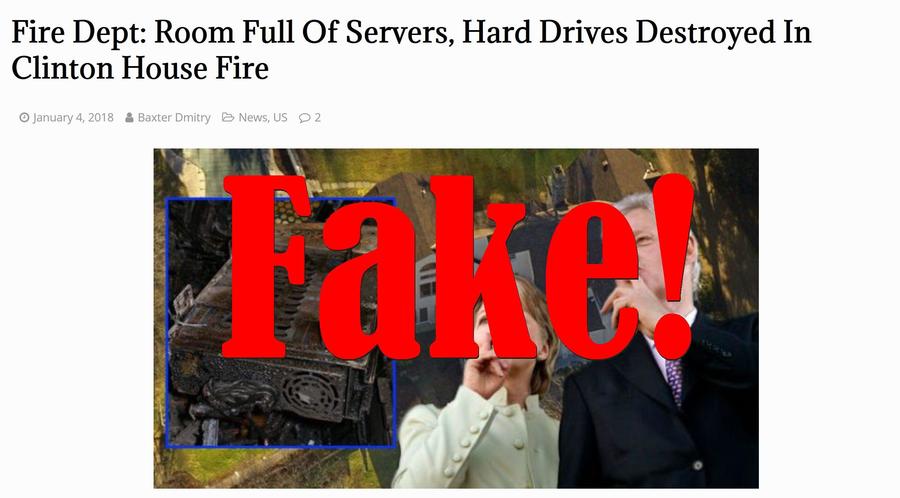 The site was recently profiled in the Hollywood reporter where it was described as:
Your News Wire, a 3-year-old website of murky facts and slippery spin, is published by Sean Adl-Tabatabai and Sinclair Treadway -- a Bernie Sanders supporter in 2016 -- out of an apartment in L.A.'s historic El Royale.
RationalWiki described it as:
YourNewsWire (styled as YourNewsWire.com[1]) is an Los Angeles-based clickbait fake news website known for disseminating conspiracy theories and misleading information, contrary to its claimed motto ("News. Truth. Unfiltered").[1]
A while ago we also reported that YourNewsWire had rebranded itself as NewsPunch by changing its domain name in an apparent effort to evade filtering/blocking. It appears the site has changed back to it's old name in the mean time but you can still see the NewsPunch name in the contact email address in the footer.