Notorious fake news website YourNewsWire has engaged in a bit of creative writing to make an already outrageous story from 2014 even more outrageous without mentioning relevant facts that have happened since. While it is true that Kevin Jonas Rojano-Nieto assaulted a 3-year-old girl and judge M. Marc Kelly only sentenced him to 10 years instead of 25 for it in 2014, he did never claim the little girl "asked for it". And on appeal the sentence will most likely be increased to the full 25 years.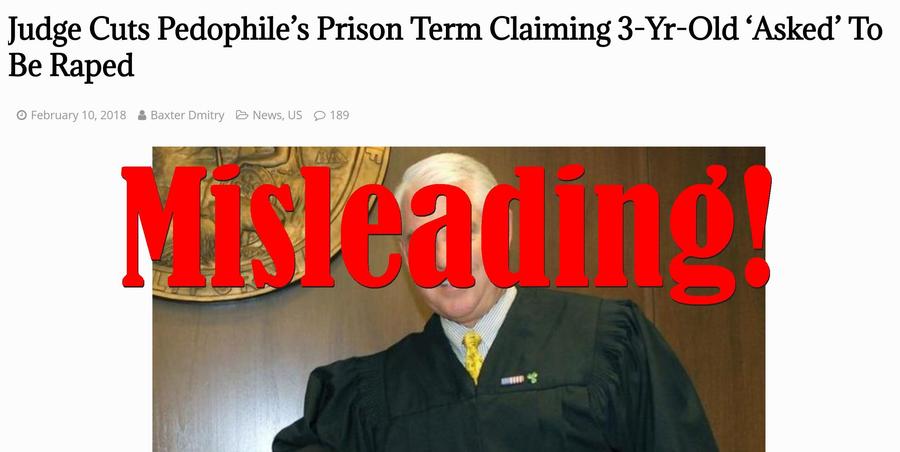 YourNewsWire's article titled "Judge Cuts Pedophile's Prison Term Claiming 3-Yr-Old 'Asked' To Be Raped" (which is archived here) was published on February 10th 2018 and opened:
A California judge has caused outrage after slashing 15 years off the prison sentence of a pedophile convicted of raping a 3-year-old child.

Orange County Superior Court Judge M. Marc Kelly cut the child rapist's prison term down to ten years from 25 years claiming that "he didn't mean to harm" the 3-year-old girl that he raped.

He also backed the claim from child rapist Kevin Rojano that the young girl initiated the act of sodomy. Rojano said in his own defense that "she asked me to do it."
Note YourNewsWire doesn't mention this happened in 2014 as you can read in this article on the Orange County Register. It also conveniently omits to mention more recent reporting about the appeals case in which the judge literally said Rojano would get 25 years:
During the hearing Friday, Judge Marc Kelly made himself clear to Kevin Rojano-Nieto and his public defender. The judge plans to sentence him to the mandatory minimum sentence for his crime.

"I don't want to mislead the defense or Mr. Rojano, he is going to be sentenced to 25 years to life," Kelly said.
The higly misleading story managed to rack up over 75,000 likes/shares/comments on Facebook in a very short period of time, probably leading to an advertising revenue bonanza for the site.
YourNewsWire has published several hoaxes and fake news articles in the past so anything they write or publish should be taken with a large grain of salt. Their Facebook page "The People's Voice" recently lost its verification checkmark according to a report from MMFA.
The Terms of Use of the site also make it clear they don't really stand behind the accuracy of any of their reporting:
THE PEOPLE'S VOICE, INC. AND/OR ITS SUPPLIERS MAKE NO REPRESENTATIONS ABOUT THE SUITABILITY, RELIABILITY, AVAILABILITY, TIMELINESS, AND ACCURACY OF THE INFORMATION, SOFTWARE, PRODUCTS, SERVICES AND RELATED GRAPHICS CONTAINED ON THE SITE FOR ANY PURPOSE.
The site was profiled in the Hollywood reporter where it was described as:
Your News Wire, a 3-year-old website of murky facts and slippery spin, is published by Sean Adl-Tabatabai and Sinclair Treadway -- a Bernie Sanders supporter in 2016 -- out of an apartment in L.A.'s historic El Royale.
RationalWiki described it as:
YourNewsWire (styled as YourNewsWire.com[1]) is an Los Angeles-based clickbait fake news website known for disseminating conspiracy theories and misleading information, contrary to its claimed motto ("News. Truth. Unfiltered").[1]
A while ago we also reported that YourNewsWire had rebranded itself as NewsPunch by changing its domain name in an apparent effort to evade filtering/blocking. It appears the site has changed back to it's old name in the mean time but you can still see the NewsPunch name in the contact email address in the footer.