STORY UPDATED: check for updates below.
Something weird appears to be going on with the sharing of links on Twitter to articles on the UK domain name blogspot.co.uk of Google's Blogspot/Blogger service. Blogger is one of the oldest blogging services around. It was created by Pyra Labs and got acquired by Google in 2003. Blogs published on the site end up on subdomains of "blogspot.com" but depending on which country visitors are coming from they get redirected to to a country-specific domain. For example if a Belgian visitor tries to visit someblog.blogspot.com he will end up at someblog.blogspot.be.
We were first made aware of the issue though this tweet (archived):
Today Twitter has blocked tweets of all UK blogspot addresses. https://t.co/1SmUdNAAC0

-- X Soviet (@XSovietNews) February 12, 2018
We decided to investigate for ourselves by trying to post a link to a subdomain on blogspot.co.uk that we made up for the test:

And indeed, we were unable to publish the link:

Next we simply changed ".co.uk" to ".com" and tried again:

This resulted in an actual tweet being sent out (which we have since deleted):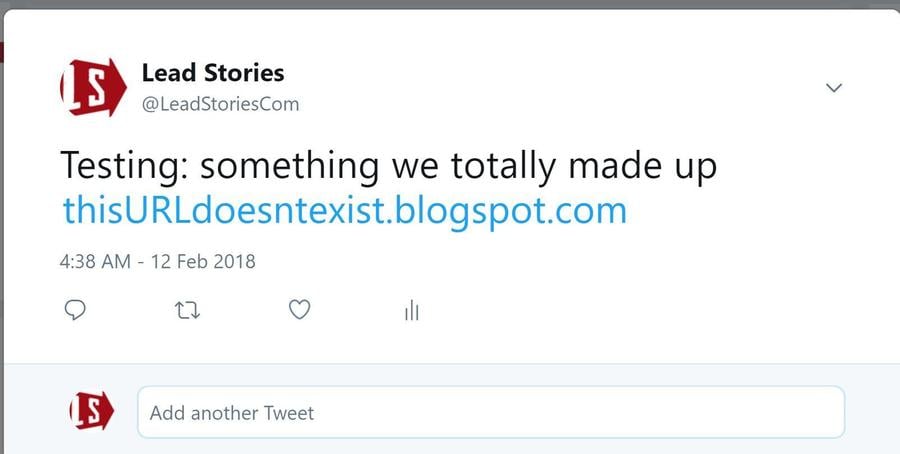 When we performed a search for "blogspot.co.uk" on Twitter we did find recent tweets that seemed to contain the subdomain in question:
Watch the dramatic moment our Lee-on-Solent Coastguard helicopter locates a man who had been missing since Sunday on the #IsleofWight today. Thanks to Ventnor and Bembridge Coastguards, @BembridgeRNLI and @HantsPolice who all joined the search #allsafe https://t.co/riYmupPR4F pic.twitter.com/tDH0klKvvn

-- Maritime&Coastguard (@MCA_media) February 12, 2018
But when we attempted to actually click the (URL shortened) link in the tweet it took us to a page that looked like this (archived here):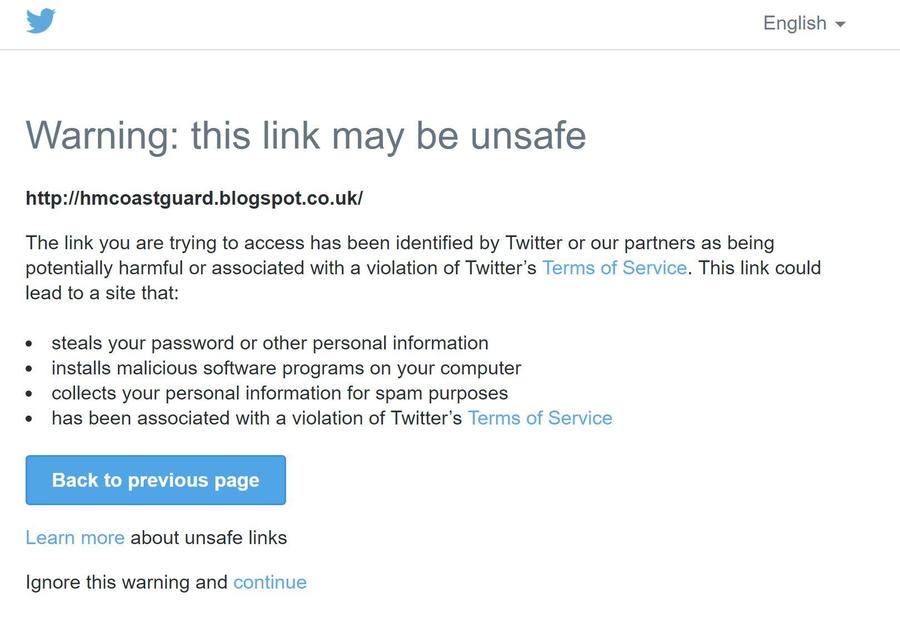 So it looks like Twitter is accusing an official UK coast guard website of being spam/malicious in nature/violating their TOS:
Warning: this link may be unsafe

http://hmcoastguard.blogspot.co.uk/

The link you are trying to access has been identified by Twitter or our partners as being potentially harmful or associated with a violation of Twitter's Terms of Service. This link could lead to a site that:

steals your password or other personal information
installs malicious software programs on your computer
collects your personal information for spam purposes
has been associated with a violation of Twitter's Terms of Service
Some UK Twitter users were already getting quite upset about this:
Twitter is today flagging ALL UK Blogspot websites as spam. Not https://t.co/9kncxXxDTi, just blogspot/co/uk.
Can someone from a newspaper give them a call? pic.twitter.com/xXbwwr7ida

-- Paul Canning (@pauloCanning) February 12, 2018
We have reached out to Twitter for comment.
2018-02-16T10:40:29Z

2018-02-16T10:40:29Z

It appears the block has been lifted now.

2018-02-12T13:51:37Z

2018-02-12T13:51:37Z

Edited the title again to be findable in Google News...

2018-02-12T13:08:29Z

2018-02-12T13:08:29Z

We updated this story to add a space between "Blogspot" and ".co.uk" in the title so it wouldn't be blocked by Twitter...