STORY UPDATED: check for updates below.
A rambling article (archived here) on Health Nut News titled "ABC: Experts say flu shot potentially caused the flu epidemic (Shocker, in mainstream no less)" was published on February 8th 2018 and got copied by many other websites. It opened:
According to the CDC (Centers for Disease Control and Prevention), this year's flu is rampant in 49 states, with Wisconsin and Minnesota being hit especially hard. And one nurse thinks she knows why. While part of the blame lies with the dominant flu strain this year, H3N2, which tends to be more severe and causes more severe symptoms than most other strains 1 it also potentially lies with us:

"I believe that the low effective rate of the vaccine this year is due to the mutations that the virus made in the processing of the vaccine itself," said Anna Treague, nurse for Public Health. "That is at LEAST part of the reason that influenza cases are so widespread this year."
The entire article seems to rest on the words of one nurse, "Anna Treague", as reported by the website of local weekly newspaper The Burnett County Sentinel.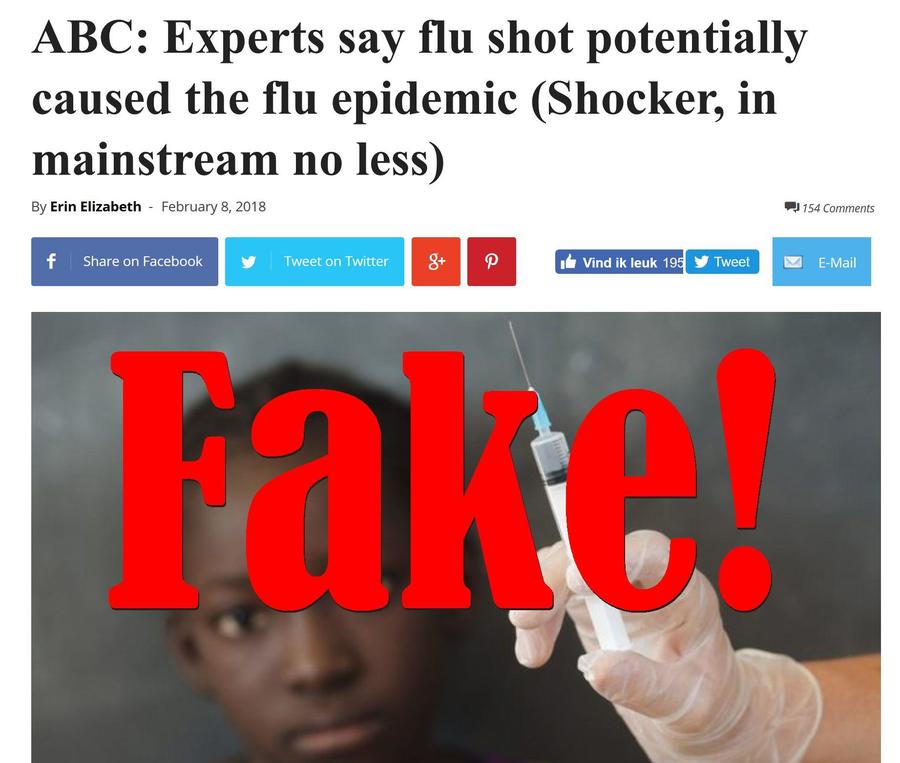 Besides the headline there is no mention of ABC in the entire story, nor is there in the linked newspaper article (archived here). For an author that claims to have won a "Truth in Journalism Award" in 2017 that seems to be very sloppy sourcing:
Erin Elizabeth is a long time activist with a passion for the healing arts, working in that arena for a quarter century. Her site HealthNutNews.com is barely 4 years old, but cracked the top 20 Natural Health sites worldwide. She is an author, public speaker, and has recently done some TV and film programs for some of her original work which have attracted international media coverage. Erin was the recipient for the Doctors Who Rock "Truth in Journalism award for 2017.
We were able to confirm that Anna Treague is an actual nurse in Burnett County: her name appears in the meeting minutes of the Burnett County "Health and Community Services Committee" from september 12th 2017 where she is mentioned in passing:
PERSONNEL REPORT
Health and Human Services Director Kate Peterson introduced Public Health Nurse Anna Treague, who was hired to fill the Public Health Nurse vacancy.
But in the linked article (and in the quotes used in the HNN article) she only speculates about why this year's flu is so strong and why this year's vaccine only seems to be offering limited protection. She never says the vaccine caused the flu epidemic.
And in the end she still advises people to get vaccinated:
"If you are able, get the flu shot," Treague said. "Even if the flu vaccine isn't as effective as it has been in year's past it does help. Some protection is better than no protection."
We also searched the ABC News website but we were unable to locate any article claiming experts said flu shots might have caused a flu epidemic this year.
Yet despite the sloppy sourcing and headline claims that were not substatiated by the rest of the article the story managed to collect almost 200K likes, shares and comments on Facebook, without counting the copycat stories on other websites.
2019-04-24T21:43:27Z

2019-04-24T21:43:27Z

Several updates have been made to the original article, including the removal of the claim that ABC reported an expert said the flu epidemic was potentially caused by flu shots.