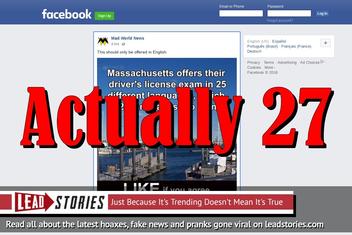 A meme posted on Mad World News claims Massachusetts offers their driver's license exam in 25 different languages and states the opinion that this "is 24 languages too many". The Facebook post published on March 21, 2018 also commented "This should only be offered in English." (archived here) .
In fact Mad World News got it wrong: the test is offered in 27 languages following an announcement in 2016:
Foreign language tests previously were offered in paper versions. In addition to English and Spanish, the test is now available in Arabic, Armenian, Burmese, Chinese simplified, Chinese traditional, Farsi, French, German, Greek, Gujarati, Haitian/Creole, Hindi, Italian, Japanese, Khmer, Korean, Laotian, Polish, Portuguese (Brazilian), Russian, Serbo-Croatian (Latin), Thai, Urdu, and Vietnamese. These languages align with the statewide Language Access plan, which identifies those languages most commonly spoken by Massachusetts residents. Somali and Tagalog/Filipino will be offered beginning the last week of December.

In addition, the RMV will be offering an automated American Sign Language (ASL) test to customers in early 2017.