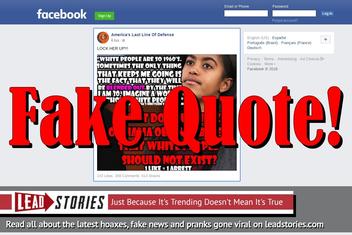 Did Malia Obama really say "White people will be blended out by the time I'm 30" during a midterm speech exam? Of course not: that is a fake quote which originated on a Facebook page specifically set up to troll and mess with conservatives and Trump supporters. There is no truth to it at all.
On April 7, 2018 Facebook page America's Last Line of Defense posted a meme image with the caption "LOCK HER UP!!!" (archived here) which had following text superimposed on an image of Malia Obama:
"White people are so 1960's. Sometimes the only thing that keeps me going is the fact that they will be blended out by the time I am 30. Imagine a world without white people"

- Malia Obama's Midterm Speech Exam

What do you think of Malia Obama's beleif that white people should not exist?

1 like = 1 arrest
Note the likely intentional misspelling of "belief". Here is the original post as an embed:
We were unable to locate any legitimate source (or illegitimate source for that matter) for this quote which makes sense since the Facebook page America's Last Line of Defense has following description on it's "Info" tab:
Info
Nothing on this page is real. It is a collection of the satirical whimsies of liberal trolls masquerading as conservatives. You have been warned.
Colofon
Use the force and the truth shall reveal itself. Just not here. Ever.
Products
Good Old Fashioned Liberal Troll Provided Fantasy presented as comedy to the left and a social experiment to the right. Please don't hurt the Trumpanzees. they'll be gone in a few years back to the shadows from whence they came and we'll be back to trolling Tea Turds.
Don't fall for it!