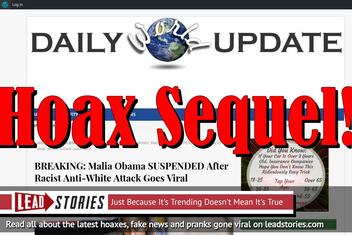 Was Malia Obama suspended from Harvard after a video of her making a racist speech about "A World Without Whites" went viral? No, that's total nonsense, it did not happen. The "news" about it is completely fake and not true at all. The video of the speech does not exist and the story about it was made up.
It was first published on April 8, 2018 by Daily World Update under the headline "BREAKING: Malia Obama SUSPENDED After Racist Anti-White Attack Goes Viral" (archived here) and opened:
A few days ago, a student at Harvard leaked the contents of Malia Obama's speech final. The topic? A World Without Whites. And now it may get Malia Obama suspended.

"White people are so 1960's. Sometimes the only thing that keeps me going is the fact that they will be blended out by the time I am 30," a recording of Obama's speech shared on Snapchat said. "Imagine a world without white people." Obama was of course referring to the scientific belief that if whites continue to breed at low rates in America while others races continue to breed at current rates, white babies will be virtually nonexistent in our country by 2038.
It builds on a previous hoax ran by a Facebook page associated with the site which falsely attributed following quote to Malia Obama: "White people are so 1960's. Sometimes the only thing that keeps me going is the fact that they will be blended out by the time I am 30. Imagine a world without white people". She never said that, as we reported here:
Did Malia Obama really say "White people will be blended out by the time I'm 30" during a midterm speech exam? Of course not: that is a fake quote which originated on a Facebook page specifically set up to troll and mess with conservatives and Trump supporters.
"Harvard Dean Cain Markholder" who supposedly suspended Malia Obama is not even a real person. The actual dean of Harvard College is currently Rakesh Khurana, as you can see for yourself here.
Daily World Update comes with a clear satire disclaimer at the bottom of each article:
sat·ire ~ˈsaˌtī(ə)r
noun
the use of humor, irony, exaggeration, OR ridicule to expose and criticize people's stupidity or vices, particularly in the context of contemporary politics and other topical issues.
If you disagree with the definition of satire or have decided it is synonymous with "comedy," you should really just move along.
The owner and main writer of the site is self-professed liberal troll Christopher Blair, a man from Maine who has made it his full time job to troll gullible conservatives and Trump supporters into liking and sharing his articles. He runs several other websites such as ladiesofliberty.net, thelastlineofdefense.online and dailyworldupdate.com. Sometimes he is also known under his nickname "Busta Troll". A second man working on the sites is John Prager, as revealed in this earlier story we wrote.
Articles from Blair's sites frequently get copied by "real" fake news sites who often omit the satire disclaimer and any other hints the stories are fake. Blair has tried to get these sites shut down in the past but new ones keep cropping up and he keeps knocking them down.
If you see one of his stories on a site that does not contain a satire disclaimer, assume it is fake news. If you do see the satire disclaimer it is of course also fake news.
We wrote about dailyworldupdate.com before, here are our most recent articles that mention the site: