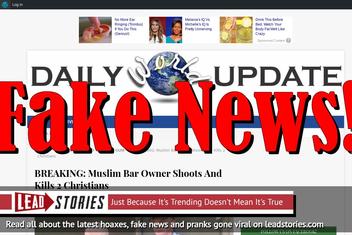 Did a muslim bar owner named Mahoulk al Jibrah of Newarkston, Delaware kill two christians by shooting them in the back with a shotgun for disrespecting Allay? No, that's not true. The story did not happen, it originated on a website that deliberately publishes fake stories designed to rile up conservatives and Trump supporters under the guise of publishing satire.
The story first appeared in an article published on April 26, 2018 on Daily World Update titled "BREAKING: Muslim Bar Owner Shoots And Kills 2 Christians" (archived here) which opened:
Mahoulk al Jibrah of Newarkston, Delaware is under arrest tonight after shooting two Christians in the back for "disrespecting Allah." According to patrons at al Jibrah's "Allahootch and Ribs," the two men came in looking to escape the rain and pray in the free mosque. A heated exchange ensued.

Then, as they were leaving to find shelter elsewhere, al Jibrah took a shotgun from under the counter, shouted "Allahu Akbar!" and but a round of buckshot through both of them from behind. The coroner confirmed that the men were indeed shot in the back.

Newarkston Police Chief and local celebrity for beating Bobby Flay at fried chicken, Malcom Reynolds, says there is no way to describe what happened at the restaurant other than "a grizzly execution."
Users on social media only saw this title, description and thumbnail:
He told them their money was no good.
To start, there is no town named of Newarkston in Delaware (or anywhere else). Mahoulk al Jibrah is a fictional name too, we found no references to him anywhere online (except the hoax article). And the link to the supposed bar "Allahootch and Ribs" goes to a Google search results page for following phrase:
A muslim bar that serves ribs. Think about it. Take all the time you need. English to Arabic
We feel we really shouldn't have to spell this out but we know there are people out there who didn't get that: muslims are not allowed to drink alcohol or eat pork by their religion.
Oh, and that picture of the killer being arrested? That's Maksim Bozic being arrested in Tuzla, Bosnia in 2010:
A 20-year old ethnic Serb Maksim Bozic was arrested in Tuzla, the Muslim part of Bosnia, for planning terror attacks reports Bosnian daily the Press. After conversion, Bozic functioned under names of, for the international Islamic network, as Abu Muhhamed and, for the local Muslims as Mirza Gradascevic.
The site Daily World Update comes with a clear satire disclaimer at the bottom of each article:
sat·ire ~ˈsaˌtī(ə)r
noun
the use of humor, irony, exaggeration, OR ridicule to expose and criticize people's stupidity or vices, particularly in the context of contemporary politics and other topical issues.
If you disagree with the definition of satire or have decided it is synonymous with "comedy," you should really just move along.
The owner and main writer of the site is self-professed liberal troll Christopher Blair, a man from Maine who has made it his full time job to troll gullible conservatives and Trump supporters into liking and sharing his articles. He runs several other websites such as ladiesofliberty.net, thelastlineofdefense.online and dailyworldupdate.com. Sometimes he is also known under his nickname "Busta Troll". A second man working on the sites is John Prager as revealed in this earlier story we wrote.
Articles from Blair's sites frequently get copied by "real" fake news sites who often omit the satire disclaimer and any other hints the stories are fake. Blair has tried to get these sites shut down in the past but new ones keep cropping up and he keeps knocking them down.
If you see one of his stories on a site that does not contain a satire disclaimer, assume it is fake news. If you do see the satire disclaimer it is of course also fake news.