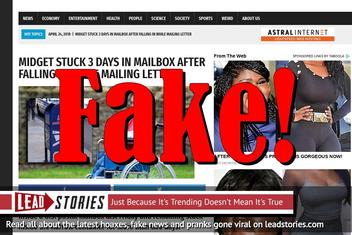 Did 49-year old midget Walter Morrison from Fayetteville, NC get stuck in a mailbox for three days after falling in while mailing a letter, and was he then rescued by mailman Thomas Dunsmore? No, that story did not happen. It originated on a site that posts made up hoaxes under the guise of satire that often get copied by other sites which then present them as real news.
The dwarf story originated from an article published on April 24, 2018 by World News Daily Report under the headline "Midget stuck 3 days in mailbox after falling in while mailing letter" (archived here). That story began:
A man suffering from dwarfism almost died after falling inside a U.S. postal mailbox last Friday and remaining stuck inside the narrow container for more than two days.

49-year old Walter Morrison, from Fayetteville in North Carolina, was found on Monday morning by a postal employee collecting the mail.

The 3'10" tall man was unconscious and severely dehydrated, so he was rapidly transported to the nearby Cape Fear Valley Medical Center where he was admitted in a critical condition.

Thomas Dunsmore, the mailman who found Mr. Morrison, described the scene in an interview with MSNBC.

"I opened the mailbox and saw this little guy upside down. At first, I simply laughed, but then I realized he was almost dead and I called 911."
The man pictured in the photo that accompanied the article is actually Martin Henderson, a person suffering from dwarfism who got attacked in a pub in 2012 and ended up in a wheelchair because of the attack:
A dwarf who was picked up and dropped on the floor while celebrating his 37th birthday has been told by doctors that he will have to use a wheelchair as a result of his injuries. Martin Henderson from Milborne Port, Somerset, was in the White Horse pub, in Wincanton, on October 7 celebrating with friends when he was attacked after going outside for a cigarette.
The mailmain pictured with the article is not Thomas Dunsmore but Arturo Lugo and the picture originated from a stock photo site:
Arturo Lugo on Getty Images.
The website World News Daily Report is a well known satire website specialized in posting hoaxes and made up stories. The disclaimer on their website is pretty clear about that even though you have to scroll all the way down the page to find it:
World News Daily Report assumes all responsibility for the satirical nature of its articles and for the fictional nature of their content. All characters appearing in the articles in this website - even those based on real people - are entirely fictional and any resemblance between them and any person, living, dead or undead, is purely a miracle.
It is run by Janick Murray-Hall and Olivier Legault, who also run the satirical Journal de Mourréal, a satirical site spoofing the (real) Journal de Montéal. Very often their stories feature an image showing a random crazy mugshot found in a mugshot gallery on the internet or on a stock photo website superimposed over a background of flashing police lights or crime scene tape.
Articles from the site are frequently copied (sometimes even months or years later) by varous fake news websites that omit the satire disclaimer and present the information as real.
We wrote about worldnewsdailyreport.com before, here are our most recent articles that mention the site: