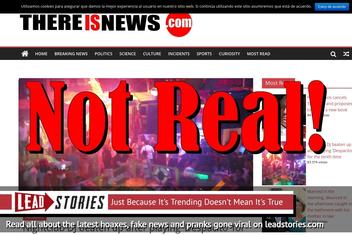 Was a DJ at an Ibiza nightclub beaten up after playing the Luis Fonsi hit "Despacito" for the tenth time? No, satisfying as it would be, the story is not true. It originated on a satire website, the news was fake.
The story originated with an article published on April 10, 2018 by There Is News titled "Nightclub DJ beaten up after playing 'Despacito' for the tenth time" (archived here) which opened:
ZA serious quarrel happened last weekend in a Ibiza nightclub, after a group of heated young men went upstairs towards the D.J. booth for hitting and kicking him.
The site There Is News carries a "Legal Warging" (archived here) that reads:
Legal Warging

The site "There is news" (http://thereisnews.es) (hereinafter referred to as TIN) is a humor site whose purpose is entertainment.

The content of TIN is fiction and does not correspond to reality.

All references, names, brands or institutions that appear on the site are used as contextual elements, as in any novel or fiction account.
(Note that the site thereisnews.es doesn't exist, only the .com version is live)
The site is the English language version of the Spanish satire site Hay Noticia, which is owned by Spanish humor website/collective La Fabrica de la Comedia S.C.
We wrote about thereisnews.com before, here are our most recent articles that mention the site: