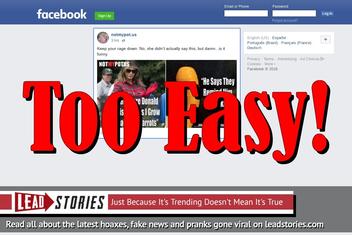 Did Melania Trump really say some carrot shaped like a pair of women's legs reminded President Donald Trump of his daughter Ivanka? No, and nobody is actually claiming she did because this must have been the easiest meme to debunk ever.
The Facebook page of website notmypot.us made a post (archived here) on April 20, 2018 that showed a picture of Melania Trump doing some gardening and a weird shaped carrot with following texts superimposed:
"To Make Sure Donald Eats His Veggies I Grow Special Little Carrots"

"He Says They Remind Him of Ivanka"*.
And then in small font:
No, Melania Trump didn't actually say that.
As the text that went with the Facebook post said:
Keep your rage down. No, she didn't actually say this, but damn...is it funny.
The meme is the latest in a publicity blitz by internet troll Christopher Blair to promote his newest sites:
STORY UPDATED: check for updates below. Regular readers of Lead Stories know we've been following the exploits of Christopher Blair for quite some time now.