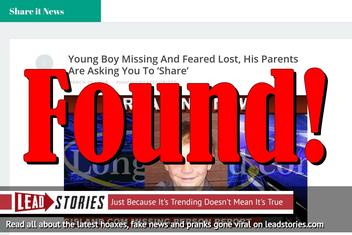 Are the parents of Joshua Collins, 13, asking you to share a message online because their son is missing? No, the kid has been found in January 2018 already but that didn't stop a site to post an article asking people to look out for him almost three months later anyway in a cynical bid to get likes and shares.
The story appeared on March 25, 2018 on Share It News and was titled "Young Boy Missing And Feared Lost, His Parents Are Asking You To 'Share' - Share it News" (archived here) which opened:
A 13-year-old boy is missing after last being seen leaving his Levittown, New York home, police said Tuesday.

Joshua Collins, 13, has been missing since being seen leaving his home Monday at 1 a.m., according to police.

Collins is 5 feet 3 inches tall and weighs 115 pounds. A description of the clothing he was wearing was not available.

Anyone with information is asked to contact the Missing Persons Squad at 516-573-7347 or call 911. Detectives say all callers will remain anonymous.
But Joshua Collins was found back in January 2018:
A Levittown teenager that was reported missing last Monday has been found, Nassau police say. Joshua Collins, 13, was last seen leaving his home at 1 a.m. on Jan. 8. He may have been spotted upstate later that day, his family said. Police haven't said where he was located or why he left home.
That didn't stop people from sharing the fake missing person's report which has accumulated almost a quarter million engagements on Facebook so far.
Tip: if you see a message asking you to share something to help find a missing person, always Google the name of that person first, maybe in combination with the word "found".