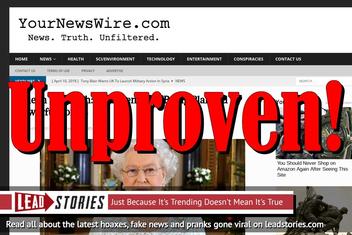 Did Queen Elisabeth II of Britain record a speech about an imminent global war being planned by certain forces? Almost certainly not because the only source for this "news" is a website with an extremely unreliable reputation that claims it got the info from an unnamed "BBC production staff" member.
The story appeared on YourNewsWire where an article was published on March 30, 2018 titled "Queen Elizabeth: Imminent War Being Planned By Powerful Forces" (archived here) which opened:
Queen Elizabeth has written and recorded a speech addressing an "imminent global war" that she claims has been "planned by certain forces with the necessary means to bring about fundamental global change" and create a "new dawn" for humanity.

During the recording the Queen says, "One must now make the necessary preparations to say goodbye to loved ones as the nature of war in 2018 does not permit one to assume who will live and who will die. Many will die in this war," according to BBC production staff.

"2018 is a very special year. It will go down in history as the start of World War 3," the Queen warns her subjects in the recorded speech. This is the second World War 3 speech the Queen has written, after a 1983 version, written during the height of the Cold War.
It has been at least ten days since the article was published and no mainstream news sources have reported on this supposed new speech. No recording has leaked of it. It is also highly unlikely a speech to be broadcasted in an emergency would contain anything else beside general messages of encouragement and patriotism. The fact that the supposedly leaked speech contains references to where a conflict would take place make it extremely unlikely to be real.
And as the saying goes, extraordinary claims require extraordinary evidence and the article is totally lacking in that department. No source is mentioned except an unnamed BBC production staff member, no date or place for the supposed recording was provided and no supporting documents or recordings were provided.
In addition YourNewsWire has published several hoaxes and fake news articles in the past so anything they write or publish should be taken with a large grain of salt. Their Facebook page "The People's Voice" recently lost its verification checkmark according to a report from MMFA.
The Terms of Use of the site also make it clear they don't really stand behind the accuracy of any of their reporting:
THE PEOPLE'S VOICE, INC. AND/OR ITS SUPPLIERS MAKE NO REPRESENTATIONS ABOUT THE SUITABILITY, RELIABILITY, AVAILABILITY, TIMELINESS, AND ACCURACY OF THE INFORMATION, SOFTWARE, PRODUCTS, SERVICES AND RELATED GRAPHICS CONTAINED ON THE SITE FOR ANY PURPOSE.
The site was profiled in the Hollywood reporter where it was described as:
Your News Wire, a 3-year-old website of murky facts and slippery spin, is published by Sean Adl-Tabatabai and Sinclair Treadway -- a Bernie Sanders supporter in 2016 -- out of an apartment in L.A.'s historic El Royale.
RationalWiki described it as:
YourNewsWire (styled as YourNewsWire.com[1]) is an Los Angeles-based clickbait fake news website known for disseminating conspiracy theories and misleading information, contrary to its claimed motto ("News. Truth. Unfiltered").[1]
A while ago we also reported that YourNewsWire had rebranded itself as NewsPunch by changing its domain name in an apparent effort to evade filtering/blocking. It appears the site has changed back to it's old name in the mean time but you can still see the NewsPunch name in the contact email address in the footer.
We wrote about yournewswire.com before, here are our most recent articles that mention the site: