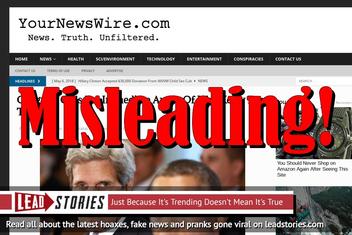 Did Congress call for the immediate arrest of John Kerry for treason? No, that's not true. A website known for adding alarming clickbait headlines containing fake information to mostly copy pasted stories about real news events is at it again. They took a single ironic tweet from a congressman and turned it into something that is definitely not real.
The story originated from an article published on May 6, 2018 by YourNewsWire which was titled "Congress Calls For Immediate Arrest Of John Kerry For Treason" (archived here) and which opened:
Congress has called for the immediate arrest of John Kerry after evidence emerged that he ran a shadow government in order to save the Iran deal.

The chairman of the House Permanent Select Committee on Intelligence, Devin Nunes (R-CA), is calling for the former Secretary of State to be charged for violating the Logan Act - a crime that could result in a three year prison sentence.
Right there in the headline and first paragraph it is making claims about things "Congress" did while the second paragraph dials it down to only Devin Nunes. And a little bit further in the article it becomes clear that the whole "calling for" thing just consists of an ironic tweet sent by Nunes in reaction to a tweet from journalist Annie Linskey who revealed John Kerry had been meeting with French and Iranian leaders to talk about the nuclear deal:
OMG! Logan Act violations!! Send in the G Men... https://t.co/FA1dydJGQb

-- Devin Nunes (@DevinNunes) May 4, 2018
Nobody has ever been arrested and convicted for violation of the Logan Act, so turning this single OMG-tweet into Congress calling for an immediate arrest for treason seems a bit overblown:
The Logan Act (1 Stat. 613, 18 U.S.C. § 953, enacted January 30, 1799) is a United States federal law that criminalizes negotiation by unauthorized persons with foreign governments having a dispute with the United States. The intent behind the Act is to prevent unauthorized negotiations from undermining the government's position.
Still, that was exactly what was claimed in the summary of the story most people get to see on social media:
Congress has called for the immediate arrest of John Kerry after evidence emerged that he ran a shadow government in order to save the Iran deal.
YourNewsWire has published several hoaxes and fake news articles in the past so anything they write or publish should be taken with a large grain of salt. Their Facebook page "The People's Voice" recently lost its verification checkmark according to a report from MMFA.
The Terms of Use of the site also make it clear they don't really stand behind the accuracy of any of their reporting:
THE PEOPLE'S VOICE, INC. AND/OR ITS SUPPLIERS MAKE NO REPRESENTATIONS ABOUT THE SUITABILITY, RELIABILITY, AVAILABILITY, TIMELINESS, AND ACCURACY OF THE INFORMATION, SOFTWARE, PRODUCTS, SERVICES AND RELATED GRAPHICS CONTAINED ON THE SITE FOR ANY PURPOSE.
The site was profiled in the Hollywood reporter where it was described as:
Your News Wire, a 3-year-old website of murky facts and slippery spin, is published by Sean Adl-Tabatabai and Sinclair Treadway -- a Bernie Sanders supporter in 2016 -- out of an apartment in L.A.'s historic El Royale.
RationalWiki described it as:
YourNewsWire (styled as YourNewsWire.com[1]) is an Los Angeles-based clickbait fake news website known for disseminating conspiracy theories and misleading information, contrary to its claimed motto ("News. Truth. Unfiltered").[1]
A while ago we also reported that YourNewsWire had rebranded itself as NewsPunch by changing its domain name in an apparent effort to evade filtering/blocking. It appears the site has changed back to it's old name in the mean time but you can still see the NewsPunch name in the contact email address in the footer.
We wrote about yournewswire.com before, here are our most recent articles that mention the site: