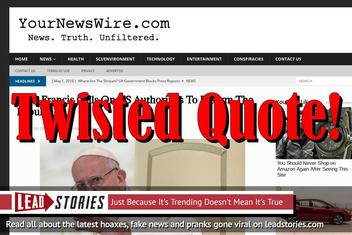 Did Pope Francis call on US authorities to disarm the population and confiscate all weapons? No, that's not exactly true: the claim comes from a website that consistently takes a bit of real news and then twists it by adding an inflammatory headline and some invented facts in order to get easily excited people to click on it so they can generate ad revenue from it.
The Pope story originated from an article published on April 30, 2018 on YourNewsWire titled "Pope Francis Calls On US Authorities To Disarm The Population" (archived here) which opened:
Pope Francis has called for a gun ban in the US, urging authorities to confiscate all weapons, and has begun using Twitter to preach the New World Order doctrine that individuals should not have the right to personally defend themselves against evil.

The Pope's comments come as Second Amendment experts warn the United Nations are launching their most serious attempt yet to ban all privately owned firearms in the United States and other countries.
What the pope actually said was this:
Do we really want peace? Then let's ban all weapons so we don't have to live in fear of war.

-- Pope Francis (@Pontifex) April 29, 2018
So, no call to just the U.S. authorities but to the whole world. And those authorities would have to hand in their guns too.
The Simpsons already showed us what would happen in that case:
To go from some wishful thinking by a religious leader to this is quite a stretch of logic:
Pope Francis has called for a gun ban in the US.
YourNewsWire has published several hoaxes and fake news articles in the past so anything they write or publish should be taken with a large grain of salt. Their Facebook page "The People's Voice" recently lost its verification checkmark according to a report from MMFA.
The Terms of Use of the site also make it clear they don't really stand behind the accuracy of any of their reporting:
THE PEOPLE'S VOICE, INC. AND/OR ITS SUPPLIERS MAKE NO REPRESENTATIONS ABOUT THE SUITABILITY, RELIABILITY, AVAILABILITY, TIMELINESS, AND ACCURACY OF THE INFORMATION, SOFTWARE, PRODUCTS, SERVICES AND RELATED GRAPHICS CONTAINED ON THE SITE FOR ANY PURPOSE.
The site was profiled in the Hollywood reporter where it was described as:
Your News Wire, a 3-year-old website of murky facts and slippery spin, is published by Sean Adl-Tabatabai and Sinclair Treadway -- a Bernie Sanders supporter in 2016 -- out of an apartment in L.A.'s historic El Royale.
RationalWiki described it as:
YourNewsWire (styled as YourNewsWire.com[1]) is an Los Angeles-based clickbait fake news website known for disseminating conspiracy theories and misleading information, contrary to its claimed motto ("News. Truth. Unfiltered").[1]
A while ago we also reported that YourNewsWire had rebranded itself as NewsPunch by changing its domain name in an apparent effort to evade filtering/blocking. It appears the site has changed back to it's old name in the mean time but you can still see the NewsPunch name in the contact email address in the footer.
We wrote about yournewswire.com before, here are our most recent articles that mention the site: