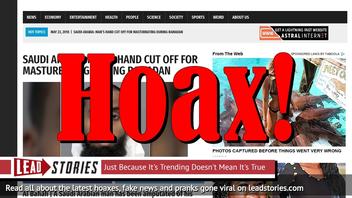 Was a man's hand cut off in Saudia Arabia for obsessively masturbating during Ramadan? No, that's not true: the story was made up by a website that invents tales about weird crimes and bizarre sex acts for entertainment purposes in order to attract clicks and advertising revenue. It did not happen for real.
The story appeared as an article published by World News Daily Report on May 23, 2018 titled "Saudi Arabia: Man's hand cut off for masturbating during Ramadan" (archived here) which opened:
Al Bahah | A Saudi Arabian man has been amputated of his left hand because of his obsessive habit of masturbating during the sacred religious period of Ramadan.

The man caused a commotion last week as he exhibited his genitals while masturbating during prayer time in a large mosque of the Al Bahah area, creating a wave of panic amongst fellow worshippers who exited the mosque in great numbers reports the Riyad Herald.

The man's family that claims that he is sick and possessed by an evil jinn (spirit) also said he had no control over his left hand and masturbated often, even while reading the Quran, during prayer time and at the mosque.
There is no "Riyad Herald" newspaper and the man pictured is actually Ayanle Hassan Ali who is currently on trial in Canada for stabbing people in 2016:
Lawyers for a Toronto man accused of attacking soldiers at a military recruitment centre two years ago say he should be acquitted of terror-related charges and found not criminally responsible for lesser offences in the case on account of his mental state and the fact he has no affiliation to a terrorist group.
The website World News Daily Report is a well known satire website specialized in posting hoaxes and made up stories. The disclaimer on their website is pretty clear about that even though you have to scroll all the way down the page to find it:
World News Daily Report assumes all responsibility for the satirical nature of its articles and for the fictional nature of their content. All characters appearing in the articles in this website - even those based on real people - are entirely fictional and any resemblance between them and any person, living, dead or undead, is purely a miracle.
It is run by Janick Murray-Hall and Olivier Legault, who also run the satirical Journal de Mourréal, a satirical site spoofing the (real) Journal de Montéal. Very often their stories feature an image showing a random crazy mugshot found in a mugshot gallery on the internet or on a stock photo website superimposed over a background of flashing police lights or crime scene tape.
Articles from the site are frequently copied (sometimes even months or years later) by varous fake news websites that omit the satire disclaimer and present the information as real.
We wrote about worldnewsdailyreport.com before, here are our most recent articles that mention the site: