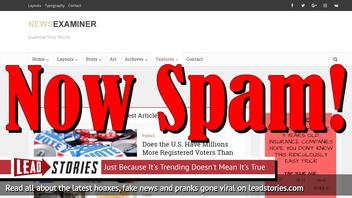 Newsexaminer.net, a website that used to be run by Paul Horner before the fake news superstar died last year has apparently been taken over by a spammer from Vietnam who bought the domain name somewhere in January 2018. The current version of the site (archived here) seems to be automatically reposting articles from fact checking website Snopes.com right now, systematically working its way through their entire archive, with new posts appearing every few minutes.
Back in November 2017 Poynter reported that most of Horner's sites went offline after he died:
Seven weeks after his death, most of Paul Horner's fake news empire is offline. Horner, who once boasted in The Washington Post that his fake news stories affected the 2016 presidential election, was found dead Sept. 18 at his apartment in Phoenix, Arizona.
But now newsexaminer.net is back online. According to WHOIS data ownership of the domain changed on January 22, 2018 when it appears someone from Vietnam bought it:
Domain Name: newsexaminer.net
Updated Date: 2018-01-22T18:41:25Z
Creation Date: 2014-12-11T17:33:47Z
Registrar Registration Expiration Date: 2018-12-11T17:33:47Z
Registrant Name: Khuong NGUYEN THANH
Registrant Organization:
Registrant Street: 5/23A Truong dang que, phuong 1, quan go vap
Registrant City: Ho Chi Minh
Registrant State/Province: Go Vap
Registrant Postal Code: 70000
Registrant Country: VN
We looked at some of the categories in the sidebar of the current site and found some stories in the "satire" category that seem to have come from Horner's original site although there are some mangled bits of advertising code sprinkled through the text, for example in this article (archived here):
35-year-old Paul Horner from Phoenix, Arizona told CNN he is excited to participate in the upcoming marijuana auctions.

google_ad_client = "ca-pub-9120926301593666";
google_ad_slot = "2639961487";
google_ad_width = 336;
google_ad_height = 280;

"I think it's great what Obama is doing. I'll be able to buy my weed cheap, all off the broken dreams of people who are now in prison. I'm so stoked!"

Jared Reagan had his marijuana dispensary raided back in March and is now looking at 10 years in prison.
(note: Horner loved to use his own name in his hoaxes)
We suspect the new operator has been raiding the Google cache to recover bits and pieces of the site and is hoping to cash in on residual traffic from old links and search results still pointing to the site.
He even stole Horner's old biography (archived here).
I suspect Paul Horner would find it quite ironic that his website is now filled with stolen Snopes.com articles given that he used to run snopes.com.co, a site on which he used to make fun of Snopes.