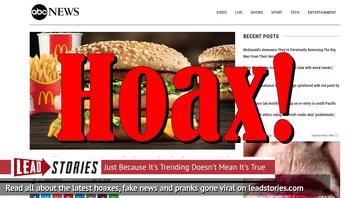 Did McDonald's announce the Big Mac will be permanently removed from their menu starting July 1st? No, that's not true, the fast food giant made no such announcement, it is not true.
The story originated from an article published on April 15, 2018 by a fake news site imitating ABC News which was titled "McDonald's Announce They're Perminatly Removing The Big Mac From Their Menu" (archived here) and which opened:
McDonald's has just announced that it will be phasing out the iconic Big Mac and a number of other menu items by July 1, and most McDonald's customers are not happy.

With McDonald's profits slumping in recent years due to consumers looking for more health conscious alternatives, the company has had to make some tough decisions to find adequate solutions for their financial distress by shaking up the menu. "Our intent is to have a cleaner and healthier menu board that is easier for customers to absorb," SVP of Corporate Strategy and Business Development, Lucy Brady, said in a statement. "To do so we must simplify our current menu and adapt to consumer trends, even if this means removing such long-standing menu items such as the Big Mac."

According to the McDonald's executive team, this means the end of the Big Mac. The Big Mac has been as synonymous with Mcdonald's as the golden arches since the burgers introduction in 1967. However, the burger's sales have been in a steady decline since the 90's as customers move to alternate menu items.
First of all, the real ABC News site is at abcnews.go.com, not at abcnews-us.com. And they would never allow a headline that spelled "Perminatly" instead of "Permanently" to stay up for several weeks.
Also, the screenshot of the tweet making the announcement that was in the article is a fake. A search on Twitter reveals no such tweet being sent by the official @McDonalds account: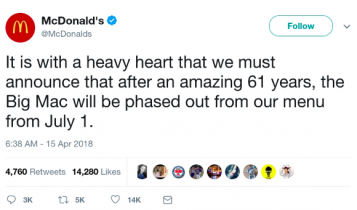 We wrote about abcnews-us.com before, here are our most recent articles that mention the site:
The site appears to be part of a larger network of (still dormant) fake news sites like yahoonews-us.com, foxnews-us.com and vice-en-us.com, with further connections pointing back to several sites that all went down in November 2017.