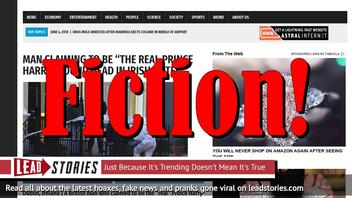 Was 31-year-old James Francis Alexander found dead in a hotel room in Dublin, Ireland and did this man claim he was the "real" Prince Harry? No, that's not true: the entire thing was made up in 2016 by a site that habitually invents stories about weird crimes and bizarre sex acts for entertainment purposes. It was not real. Despite this fact the story has reappeared on several websites since.
The story originated from an article published by World News Daily Report on April 6, 2016 titled "Man claiming to be "the real Prince Harry" found dead in Irish hotel" (archived here) which opened:
Dublin, Ireland | A British man who claimed to be the "real" Prince Harry and to have been forcibly replaced as a child by an impostor, was found dead this morning in his hotel room, in the seaside town of Dun Laoghaire, near the Irish Capital.

The Garda Síochána (Irish police) was called on the site early this morning, after some neighbors complained about the smell emanating from his room.

They found the body of 31-year old, James Francis Alexander, a young British nobleman mostly known for his claim to be a member of the Royal British family.

According to the spokesman of the Irish police, Lt. Seamus O'connor, the young man had multiple bullet wounds, and the police found some signs of struggle in his room, suggesting that he was victim of a violent crime.
The picture used to illustrate the story was a Dublin crime scene, but it was from a 2016 shooting in connection with a boxing match:
A man has been killed in a shooting at a weigh-in for a World Boxing Organization (WBO) title fight in the Republic of Ireland. Two other men were injured in the incident at Dublin's Regency Hotel at about 14:30 local time on Friday.
The website World News Daily Report is a well known satire website specialized in posting hoaxes and made up stories. The disclaimer on their website is pretty clear about that even though you have to scroll all the way down the page to find it:
World News Daily Report assumes all responsibility for the satirical nature of its articles and for the fictional nature of their content. All characters appearing in the articles in this website - even those based on real people - are entirely fictional and any resemblance between them and any person, living, dead or undead, is purely a miracle.
It is run by Janick Murray-Hall and Olivier Legault, who also run the satirical Journal de Mourréal, a satirical site spoofing the (real) Journal de Montéal. Very often their stories feature an image showing a random crazy mugshot found in a mugshot gallery on the internet or on a stock photo website superimposed over a background of flashing police lights or crime scene tape.
Articles from the site are frequently copied (sometimes even months or years later) by varous fake news websites that omit the satire disclaimer and present the information as real.
We wrote about worldnewsdailyreport.com before, here are our most recent articles that mention the site: