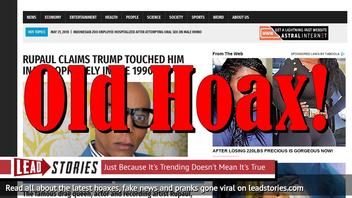 Did artist Rupaul claim Donald Trump grabbed him/her innapropriately in the 1990s? No, that's not true: al old story from 2016 by a satirical website that claims he did is not true.
The story originated from an article published by World News Daily Report on April 15, 2016 titled "Rupaul claims Trump touched him inappropriately in the 1990s" (archived here) which opened:
The famous drag queen, actor and recording artist Rupaul, claims that Donald Trump grabbed his ass and genitals during a party in 1995.

In an exclusive interview with the Hollywood Inquirer, Rupaul said that Mr. Trump "made a move" on him during an event celebrating the release of the movie To Wong Foo, Thanks for Everything! Julie Newmar.

The artist was wearing his full drag queen apparel at the time and says Trump clearly mistook him for a real woman.
The story is obviously fake because RuPaul's official Twitter account immediately said it was "parody" and "not true":
PARODY (NOT TRUE): RuPaul claims Trump touched him inappropriately in the 1990s https://t.co/6uVUa0kckC pic.twitter.com/uVd2eupPRw

-- RuPaul (@RuPaul) October 15, 2016
Yet on May 31, 2018 the story was posted as true on several anti-Trump Facebook groups, for example here.
The website World News Daily Report is a well known satire website specialized in posting hoaxes and made up stories. The disclaimer on their website is pretty clear about that even though you have to scroll all the way down the page to find it:
World News Daily Report assumes all responsibility for the satirical nature of its articles and for the fictional nature of their content. All characters appearing in the articles in this website - even those based on real people - are entirely fictional and any resemblance between them and any person, living, dead or undead, is purely a miracle.
It is run by Janick Murray-Hall and Olivier Legault, who also run the satirical Journal de Mourréal, a satirical site spoofing the (real) Journal de Montéal. Very often their stories feature an image showing a random crazy mugshot found in a mugshot gallery on the internet or on a stock photo website superimposed over a background of flashing police lights or crime scene tape.
Articles from the site are frequently copied (sometimes even months or years later) by varous fake news websites that omit the satire disclaimer and present the information as real.
We wrote about worldnewsdailyreport.com before, here are our most recent articles that mention the site: