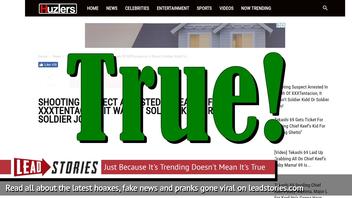 Was a suspect named Dedrick D. Williams arrested in the case of the murder of rapper XXXTentacion? Yes, despite the story being publised on notorious fake news website Huzlers the news is actually true.
The story appeared in an article published on June 21, 2018 titled "Shooting Suspect Arrested In Death Of XXXTentacion, It Wasn't Soldier Kidd Or Soldier Jojo!" (archived here) which opened:
A suspect has been arrested in the death of rapper XXXTentacion, according to police.

Dedrick D. Williams was taken into custody Wednesday, two days after the artist, whose birth name was Jahseh Onfroy, was gunned down in South Florida.

Charges for Williams, 22, include first-degree murder, a probation violation for theft of a car motor vehicle and driving without a valid license. They then allegedly fled in an SUV.

The arrest was confirmed to the Daily News by Broward County Sheriff's Office Captain Robert Schakenberg.
The news was actually confirmed by several mainstream news websites earlier today:
Police in Florida arrested Dedrick D. Williams in the murder of XXXTentacion Wednesday night, the Daily News reports. The controversial 20-year-old rapper was shot and killed earlier this week. The Broward County Sheriff's Department confirmed the booking of 22-year-old Williams on several charges, including first degree murder, a probation violation for theft of a car and driving without a valid license.
Huzlers styles itself as a "fauxtire" website and carries a disclaimer at the bottom of each page:
Huzlers.com is the most infamous fauxtire & satire entertainment website in the world. If it's trending on social media you'll find it here!
According to Splinter News the site is run by Pablo Reyes and David Martinez and according to Buzzfeed Reyes is involved with several other fake news websites. They tend to shy away from political stories, opting instead to write for a more "urban" audience, with stories about rappers, criminals and celebrities.
We wrote about huzlers.com before, here are our most recent articles that mention the site:
But sometimes they will publish a true story, this is one of them...