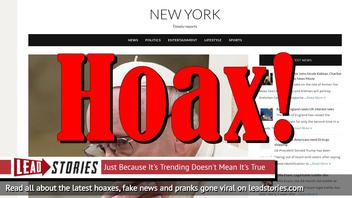 Did Pope Francis step down over a sexual abuse coverup? No, that's not true, even though a fake news site pretending to be the New York Times is claiming he did. None of it is true.
The story originated from an article published on nytiwes.com (not nytimes.com) on titled "Pope Francis Steps Down Over Sexual Abuse Coverup" (archived here) which opened:
Pope Francis, the Pope and sovereign of the Vatican City State has announced his resignation as leader of the religious group. Real name Jorge Mario Bergoglio, Pope Francis was the 266th Pope and the first from the Americas. The Pope resignation comes after senior Vatican officials were accused of covering up widespread sexual abuse for decades. Several quarters have been calling for the Pope to step down after the news went viral.
The Pope has not confirmed the news via his Twitter account, nor is the official news website of the Vatican making any mention of it. No other legitimate sources are reporting it either, so it is pretty safe to say it is a big hoax.
You may also recall the nytiwes.com website recently posted a Demi Lovato death hoax that went massively viral:
Did singer and actress Demi Lovato pass away aged 25 after a heroin overdose? No, that's not true: the part about the overdose is real but news of her passing was spread around by a website known for publishing death hoaxes. The site is very likely connected to a larger network of fake news websites possibly originating in Ghana.
It appears to be part of a larger network of fake sites originating in Ghana as it is using many of the same techniques used on other sites in it. Large parts of the network shut down after a Lead Stories investigation but it appears it is now growing again:
STORY UPDATED: check for updates below. On April 17, 2018 former First Lady Barbara Bush passed away but a full day earlier an article prematurely announcing her death from a website pretending to be CNN managed to rack up a combined 2.3 million likes, shares and comments on Facebook.