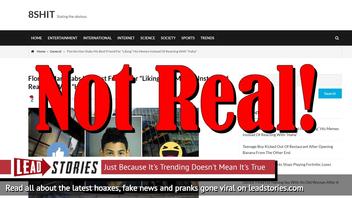 Did 19-year-old Martin Buggs stab his best friend Jacob Cockburn for liking his memes instead of replying "haha"? No, that's not true: the story was made up by a "fauxtire" website and it internally contradicts itself. The entire thing is not real.
The story originated from an article published by 8Shit on August 6, 2018 titled "Florida Man Stabs His Best Friend For "Liking" His Memes Instead Of Reacting With "Haha"" (archived here) which opened:
19-year old Martin Buggs was arrested yesterday after allegedly killing his best friend, Jacob Cockburn, after a 3-hour argument. The incident happened in Miami, when Martin and Jacob were arguing about Facebook reactions. According to Martin himself, Jacob "refused to use the 'haha' react for good memes", because he thought that the like button was more than enough.

Martin shares memes every day on Facebook and he also tags his friends. He expects a "haha" react if the meme made them laugh, but Jacob refused to give him what he wanted. After a 3-hour argument, things heated up and Martin stabbed his so-called "best friend" 3 times in the chest. A neighbor called the police because they were making too much noise and he (the neighbor) was playing Fortnite.

The police came to the scene and arrested Martin. Jacob was rushed to hospital and is slowly getting better.
So after being arrested after "allegedly killing" his friend, the friend was rushed to hospital where he is "slowly getting better". Medical technology is incredible these days... if the story were true.
But the mugshot being used to illustrate the story actually depicts Christopher Moore, who was accused of being in a fatal hit-and-run in 2016:
Updated: DAYTONA BEACH, Fla. - The man accused of intentionally running down a motorcyclist and leaving him at the scene to die is back in Volusia County on Wednesday. Daytona Beach police said Roger Martin's bike is seen being dragged by Christopher Moore on surveillance video during the fatal hit-and-run.
Furthermore, 8shit.net carries a disclaimer on its about page that reads:
8Shit is a satire and humor website.

It contains cutting edge satire on a diverse range of topics.

The website publishes fake news, shocking rumors and reports with incisive sarcasm, and humor.

We also post crazy real news which often sounds too good to be true.
And an additional disclaimer in the footer of every page:
8Shit is a satire news and humor website. All its content is fiction (except those posts under the "serious" category) and shouldn't be taken as real. All references, names and marks or institutions in this website are used as contextual elements, like in any novel or science-fiction story.
We wrote about 8shit.net before, here are our most recent articles that mention the site: