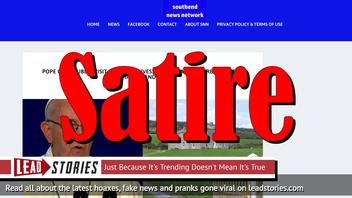 Did Pope Francis cut his visit to Ireland short in order to investigate some financial irregularities of a small island parish? No, that's not true: a satirical website made up the story using details from the fictional television show "Father Ted". It is not real.
The story originated from an article published by the Southend News Network on August 25, 2018 titled "Pope cuts Dublin visit short to investigate financial irregularities on small island parish" (archived here) which opened:
A spokesperson for The Vatican has confirmed that Pope Francis has cut short his visit to Dublin to investigate allegations of financial irregularities on a small island parish.

According to sources close to the Pontiff, the allegations relate to transactions in the early 1990's that correspond to donations made via a priest who was in charge at the time.

One source said, 'We are not in a position to name him at the present time, but we are aware that he is insisting that the money was resting in his account.'
None of this happened for real and the phrase "money resting in an account" is a catchphrase from the TV show Father Ted which aired from 1995 to 1998 and which followed the adventures of several Catholic priests banished to a parish on a small island for various misdeeds, including financial ones.
Father Ted is a British sitcom that was produced by Hat Trick Productions for Channel 4. Written by Irish writers Arthur Mathews & Graham Linehan and starring a predominantly Irish cast, it originally aired over three series from 21 April 1995 until 1 May 1998, including a Christmas special, for a total of 25 episodes.
The image illustrating the story is the actual house used in the series:
The fictional Irish priest Father Ted lives in an old parochial house on Craggy Island off the coast of Ireland. His roommates are nitwit Dougal and drunken Father Jack. The housekeeper Mrs. Doyle tries to keep them all in line with plates of sandwiches and pots of tea.
The Southend News Network is a satirical site pretending to be a news organisation by the English coast in Southend. They have a disclaimer on their about page that reads (in part):
Southend News Network was originally started in October 2015 with no real aims or objectives in mind other than to add a satirical/spoof-like touch to issues that people are passionate about in Southend On Sea. Above all else, SNN is all about having the occasional 'dig' at the powers that be, as well a slightly bigger and more frequent 'dig' at certain elements of local media!
Several of their stories have been mistaken for real news in the past and the site was recognized by the local authorities as an "official news outlet".
We wrote about southendnewsnetwork.net before, here are our most recent articles that mention the site: