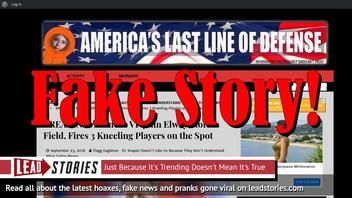 Were three kneeling players from the Denver Broncos fired on the spot by VP of Football Operations John Elway? No, that's not true: the entire incident was made up by a liberal satire website that loves to create content conservatives and Trump supporters will get excited by, so much that they will like and share it without reading the full story. Fans of the site then mock them in the comments. The entire story is made up from A to Z. Despite being not real the article making the claim went massively viral anyway.
The story originated from an article published by America's Last Line of Defense on September 23, 2018 titled "BREAKING: Broncos VP John Elway Storms Field, Fires 3 Kneeling Players on the Spot" (archived here) which opened:
According to sources inside the locker room, The Denver Broncos were brought together for a "policy meeting" on Wednesday of last week with none other than legendary quarterback John Elway. Elway, now VP of Football Operations for the franchise, made his decision on the subject very clear.

"There will be no kneeling during the national anthem in this stadium. I don't care what your beliefs aree. You're at work and your antics are costing us money. Don't do it."

Elway took the politics out of it and went right for what counts: the money. After giving them the choice, three players have stated all week that they will kneel regardless of the consequences. Mavius Malphner said he'll follow in the footsteps of his "current hero," Colin Kaepernick:
Users on social media only saw this title, description and thumbnail, where many people probably shared it without clicking through:
They were warned.
If they had, they would have seen the warning in the header of the site that read "Information you probably shouldn't trust" and the category the article was posted under, which read: "SNOPES DOESN'T LIKE US BECAUSE THEY DON'T UNDERSTAND WHAT SATIRE MEANS". In addition, the word "sources" linked to an image spelling out "crap" and the alleged reason for firing the players, "breach of contract", was a link to an image that spelled "being black".
The players in the story ("Mavius Malphner", "Ladamian Brown" and "DeShaq Darq") don't actually appear on the roster of the Broncos and they never have because they were made up.
The site comes with a clear satire disclaimer at the bottom of each article:
sat·ire ~ˈsaˌtī(ə)r
noun
the use of humor, irony, exaggeration, OR ridicule to expose and criticize people's stupidity or vices, particularly in the context of contemporary politics and other topical issues.
If you disagree with the definition of satire or have decided it is synonymous with "comedy," you should really just move along.
The owner and main writer of the site is self-professed liberal troll Christopher Blair, a man from Maine who has made it his full time job to troll gullible conservatives and Trump supporters into liking and sharing his articles. He runs several other websites, including potatriotpost.us, dailyworldupdate.us and nofakenewsonline.us. Sometimes he is also known under his nickname "Busta Troll". A second man working on the sites is John Prager as revealed in this earlier story we wrote.
Articles from Blair's sites frequently get copied by "real" fake news sites who often omit the satire disclaimer and any other hints the stories are fake. Blair has tried to get these sites shut down in the past but new ones keep cropping up and he keeps knocking them down.
If you see one of his stories on a site that does not contain a satire disclaimer, assume it is fake news. If you do see the satire disclaimer it is of course also fake news.
NewsGuard, a company that uses trained journalist to rank the reliability of websites, describes trumpbetrayed.us as:
A website claiming to be satirical that publishes fabricated stories, run by Christopher Blair, a known purveyor of disinformation, that published fake stories about Senator John McCain after he passed away.
According to NewsGuard the site does not maintain basic standards of accuracy and accountability. Read their full assessment here.
We wrote about trumpbetrayed.us before, here are our most recent articles that mention the site: