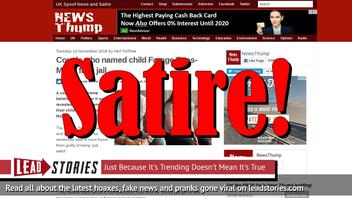 Did a British couple name their child "Farage Rees-Mogg Williams" and are they now facing jail over that? No, that's not true: a UK satire website published an article claiming it happened but it was a joke mocking a different couple who actually named their child "Adolf Hitler". The "Farage Rees-Mogg" story is real.
The story originated from an article published by NewsThump on November 13, 2018 titled "Couple who named child Farage Rees-Mogg face jail" (archived here) which opened:
A couple with extreme beliefs face jail after it was revealed they had named their child Farage Rees-Mogg.

The couple, Simon Williams and wife Simone, will be sentenced after a court found them guilty of being 'just awful'.

"The couple obviously harbours some seriously sick beliefs," said court official Eleanor Gay.
Users on social media only saw this title, description and thumbnail so they may have thought it was actual news:
A couple with extreme beliefs face jail after it was revealed they had named their child Farage Rees-Mogg.
Nigel Farage and Jacob Rees-Mogg are two well-known pro-Brexit politicians in the United Kingdom and naming your child after them is not a jailable crime (even though it would probably be weird and slightly creepy). But the story was actually mocking a different couple who gave their child an unusual name. That couple is actually facing jail but on terrorism charges:
A Neo-Nazi couple who named their child after Adolf Hitler are facing jail after they were found guilty of belonging to a banned terrorist organisation. Adam Thomas, 22, and his girlfriend, Claudia Patatas, 38, were convicted of being members of the far-right organisation National Action, which was outlawed in 2016.
NewsThump comes with an about page that explains what is going on:
Welcome to NewsThump! No, really, we mean it.

Honest.

NewsThump is a satirical and spoof news website, taking a daily swipe at current affairs from the UK and around the world. It is published and owned by Thump Publishing Limited.

We aim to be equal opportunity piss-takers and have no particular affiliation or political preference. It is our stated aim to mock absolutely everyone, eventually.

We are not afraid to skip a few steps like checking facts or corroborating sources, and we never let the truth ruin a funny story (it's much easier just to make everything up). So, for clarification - If you read a story on here, then you are NOT supposed to believe it. It has been completely made up purely for entertainment purposes. It's also worth noting that we regularly use rude words and stuff, so you need to be 18 to be reading this. All images are courtesy of iStockphotos/Getty and are used for illustrative purposes only, and anyone depicted is a model.
We wrote about newsthump.com before, here are our most recent articles that mention the site: