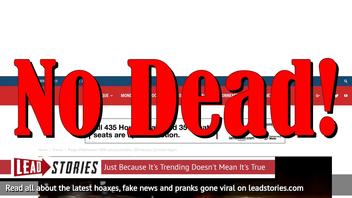 Were 1600 cars burned in France during a so called Halloween Purge and were 320 people wounded and 23 killed? No, that's not true: although there was some real violence and car burning after rumors of a "Halloween Purge" against police spread on social media the news about the huge death toll and the inflated number of cars burned all came from a Belgian satire website. That part is not true. The French headline even speaks of "23 lightly dead", a clear indication it was meant as a joke.
The story originated from an article published by NordPresse on October 31, 2018 titled "Purge d'Halloween: 1600 voitures brûlées, 320 blessés, 23 morts légers" (archived here) which opened:
En déplacement dans le Val-d'Oise, le ministre de l'Intérieur a annoncé le renfort de 200 policiers dans le département dans le département après la publication de messages appelant à la « purge » des policiers sur les réseaux sociaux.
Selon les premiers résultats de la soirée, la purge est un franc succès avec plus de 1600 voitures brûlées, 320 blessés et 23 morts légers.
Christophe Castaner a également demandé aux préfets le renfort des forces de sécurité sur tout le territoire. La loi martiale pourra être rétablie en cas de débordement supplémentaire grâce à l'état d'urgence.
Translation:
Traveling in the Val-d'Oise, the Minister of the Interior announced the reinforcement of 200 police in the department in the department after the publication of messages calling for the "purge" of police on social networks.
According to the first results of the evening, the purge is a great success with more than 1600 cars burned, 320 wounded and 23 dead.
Christophe Castaner also asked the prefects to reinforce the security forces throughout the territory. Martial law may be reinstated in case of further overflow due to the state of emergency.
However the numbers are greatly exaggerated. French newspaper Le Parisien reports the real figures:
Des incendies et des heurts avec les policiers ont été constatés à Lyon, Toulouse, Rennes, ainsi que dans plusieurs communes de l'Essonne, et jusque sur l'île de La Réunion.
It mentions about a hundred arrests in connection with various riots in several places and dozens of small fires (including several cars) but no dead.
Le Journal Du Nord (nordpresse.be) is a satirical website that was set up to mock the (real) sudpresse.be (since renamed sudinfo.be), a Belgian media group. They were involved in a lawsuit with each other in 2017 which was eventually won by NordPresse.
They have sort of a disclaimer in their header that reads:
Toute l'information vérifiée par nos analystes simiens
Translated: "all information verified by our monkey analysts".
We wrote about nordpresse.be before, here are our most recent articles that mention the site:
The second article in that list deserves some extra attention: this is not the first time the site is caught overinflating riot-related numbers:
Were 12 (or 89 or 123 or 135) people killed and 870 wounded in riots following a French victory in the World Cup? And were 13000 cars torched? No, that's