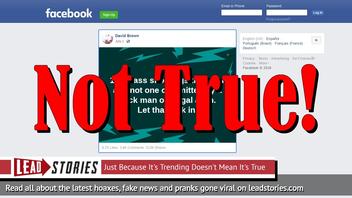 Were none of the 154 mass shootings in the United States this year commited by black men or illegal aliens? No, that's not true: the claim made in a viral Facebook post published by David Brown this summer which has been shared over half a million times can easily be disproven.
The claim appeared in a Facebook post published on July 1, 2018 by a Facebook user named "David Brown" (archived here) with following text:
154 mass shootings this year and not one committed by a black man or illegal alien. Let that sink in.
However a quick look at this list of 2018 mass shootings and a few Google searches are enough to disprove the claim:
The Monroe County sheriff says a suspect in a shooting that left one person dead and three others injured turned himself in Thursday morning.Arkansas State Police, which has been called in to investigate, says James Frost, 43, of Brinkley was taken into cu
An Allerton lounge owner says the events leading up to a shooting and stabbing did not start inside of his business.
KILLER Moseley shot three people dead before turning the gun on herself in what police described as a 'senseless' crime.
It appears the claim was later repeated by the Facebook page Occupy Democrats (adding "women" to the list of non-perpetrators) leading Snopes to fact check it and finding it a "mixture" because depending on the definition of "mass shooting" it was still possible to claim no black men, women or illegal aliens committed any of the six shootings that would remain on the list if that definition was used:
A hyperpartisan Facebook page gave readers an incomplete picture of mass shootings in America in 2018.
Note that we were unable to find examples of illegal immigrants committing mass shootings in 2018 but we didn't search very hard since the basic claim ("black man or illegal alien") was already logically proven false when we found our first counterexample.