STORY UPDATED: check for updates below.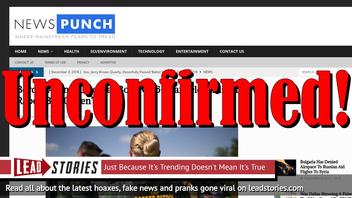 Did U.S. Border Patrol agents find the body of a 6-year-old girl who was raped by 30 men near the Mexican border? No, that's not true: we contacted U.S. Customs and Border Protection to inquire about the incident and they told us they never heard about it. The only sites that mention it seem to base themselves on a video put out by an activist group in which somebody claims her "friend" who worked for a "security company" found a girl "left for dead" while patrolling near a pipeline at an unspecified location at an unspecified date.
The story about the girl was recently repeated in an article published on December 2, 2018 by NewsPunch titled "Border Agents Find Body Of 6-Year-Old Girl: "She Was Raped By 30 Men"" (archived here) which opened:
The body of a 6-year-old girl at the US-Mexico border had been raped by at least 30 men, according to military physicians.

The discovery was made after a group of mothers decided to travel to the southern border to discover just how widespread a problem human trafficking really is. What they found was truly despicable.

Theblaze.com reports: Moms For America President Kimberly Fletcher and Aisha Owmby, the founder of Black Women Walk, organized the trip, which they hope will help others understand why they believe a wall along the U.S.-Mexico wall is needed to protect American families.
Note the NewsPuch story claims:
The girl was dead
Border Patrol agents found her (the story is illustrated with a picture of Border Patrol agents)
It happened near the US-Mexico border but at an unspecified location at an unspecified time
NewsPuch points to this article at The Blaze as its source and copies whole paragraphs from it:
Moms Caravan traveled to the Texas-Mexico border over the weekend to get a first-hand look at the border and to witness for themselves the effects of illegal immigration on families who live there. Thirty-five mothers from 14 states spent Sunday walking the border and visiting with local moms, educa...
That story was dated November 6, 2018, and it mainly speaks about an activist group named "Moms Caravan" traveling to the border to learn about illegal immigration. That story specifically claims Kimberly Fletcher of "Moms For America" made these statements:
A few months ago, border security agents found a 6-year-old girl who had been left for dead along a pipeline.

The girl was flown to a military hospital where physicians found DNA from 30 men inside her young body.

"She had been raped by 30 men!" Fletcher said, adding that this little girl's life is worth building a wall to keep violent men from coming into the country.
It then presents a video, in which a woman only identified as "Alma", a "Dentist and Rancher", tells mostly the same story:
I want to tell them a story about a little girl that was found about three or four months ago. A friend of mine was patrolling the pipeline. He has a security company. And it just happened that they came across a six year old little girl. And she had been left for dead. So what they did was they flew her to a military hospital. And DNA showed that she had been... She had thirty different DNAs in her little body. She had been raped by thirty different men. These are the people that are going to be coming across the border. I'm not saying all of them. But if you have little girls, you better be ready for something like this.
That sounds more like an anti-immigrant horror story than a factual description of events. The Blaze first attributes the statements to Kimberly Fletcher of "Moms for America" but then points to the "Alma" video. The video was indeed put out by Moms for America via their Facebook page with 256 fans:
Given the timeline of when the video was published (early November) and the claim about when the girl was found (three to four months ago) we looked for media reports from other sources about little girls being raped by 30 men in the past six months and found none. We also contacted U.S. Customs and Border Protection via their media contact because such a case must have made an impression. We were told nobody there had heard about it.
Also note the Alma video claims it is a private security company that made the discovery, not Border Patrol agents, and for some unspecified reason they flew the girl to a military hospital anyway.
We contacted Kimberly Fletcher to ask for more details on the story and got following reply, indicating they had "no substantiation or corroboration" either:
We did repeat the story shared with us from a mother on the border. It had such an impact on us we told several others and then realized we no substantiation or corroboration. Without that it's just a compelling story. We are in the process of investigating the story to confirm its validity.
So the entire headline of the NewsPunch article was based on an unsubstantiated, vague claim told by one person.
NewsGuard, a company that uses trained journalist to rank the reliability of websites, describes newspunch.com as:
A news and conspiracy website that regularly publishes false information and far-right conspiracy theories. The site was formerly housed under the domain yournewswire.com.
According to NewsGuard the site does not maintain basic standards of accuracy and accountability. Read their full assessment here.
We wrote about newspunch.com before, here are our most recent articles that mention the site:
Given the contradictions between the source and the NewsPunch article and the fact that U.S. Customs and Border Protection had not heard about this at all we are pretty sure the incident with the six year old girl is not real.
2018-12-05T19:09:23Z

2018-12-05T19:09:23Z

Updated the story with Kimberly Fletcher's reaction