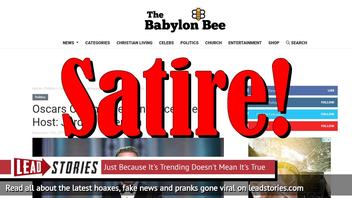 Did the Academy of Motion Picture Arts and Sciences announce Dr. Jordan Peterson will host the 91st Oscars ceremony? No, of course not: the story was put out by a Christian themed satire website, it is not real. It mocks the recent withdrawal of presenter Kevin Hart after some controversial tweets surfaced that he posted years ago.
The story originated from an article published by The Babylon Bee on December 12, 2018 titled "Oscars Committee Announces New Host: Jordan Peterson" (archived here) which opened:
HOLLYWOOD, CA--The Academy of Motion Picture Arts and Sciences has reversed course from previous reports that they would forego a host for their 91st Oscars ceremony, instead tapping popular psychologist, author, and professor Jordan Peterson to host the awards show.

"None of us here at the Academy have ever heard of Dr. Peterson, but judging by sheer number of books he sells, coupled with his popularity as a professor and speaker, we felt that he would be the perfect candidate," AMPAS revealed in a press release Wednesday.
Hart did actually depart and a show without a host is actively being considered:
The organisers of the Academy Awards are desperately scrambling to find a new host after the abrupt departure of comedian Kevin Hart. But, with just 75 days to go, they're reportedly considering a bold move.
But no press release was issued announcing Jordan Peterson as host as you can see for yourself here:
THE ACADEMY OF MOTION PICTURE ARTS AND SCIENCES AND THE LOS ANGELES PHILHARMONIC ASSOCIATION PRESENT THE OSCAR® CONCERT
That is no surprise since "The Babylon Bee" comes with following dislaimer on every page:
The Babylon Bee is Your Trusted Source For Christian News Satire.
We wrote about babylonbee.com before, here are our most recent articles that mention the site: