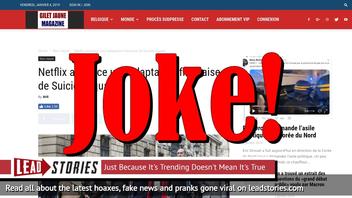 Did Netflix announce a French version of the "Suicide Squad" movie? No, that's not true: the rumor was started by a Belgian satire website mocking the French government. It is not real.
The story originated from an article published by NordPresse on January 4, 2019 titled "Netflix annonce une adaptation française de Suicide Squad" (archived here) which simply contained this image:

Users on social media only saw this title, description and thumbnail so people who understood a litte bit of French but didn't follow French politics might have gotten confused:
Brève
But the picture actually shows several ministers currently in the French government. One can recognize Prime Minister Édouard Philippe, Nicole Belloubet (Justice), Muriel Pénicaud (Labour) or Florence Parly (Armed Forces) among others. It is unclear when, where or by who the picture was taken.
Le Journal Du Nord (nordpresse.be) is a satirical website that was set up to mock the (real) sudpresse.be (since renamed sudinfo.be), a Belgian media group. They were involved in a lawsuit with each other in 2017 which was eventually won by NordPresse. It is run by Vincent Flibustier who also offers media training about fake news on his website, he clearly knows what he is talking about.
They have sort of a disclaimer in their header that reads:
Toute l'information vérifiée par nos analystes simiens
Translated: "all information verified by our monkey analysts".
We wrote about nordpresse.be before, here are our most recent articles that mention the site: