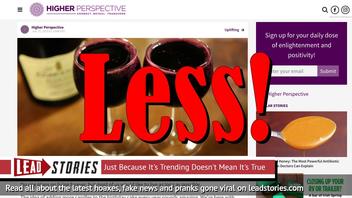 Did new research say drinking wine is more important than excercise for living past 90? No, that's not true: the study is not new and it says the exact opposite. But an article making the claim recently went viral, the latest in a long line of stories incorrectly reporting on the study.
The story went viral again via an article published on January 21, 2019 by Higher Perspective titled "New Research Says Drinking Wine Is More Important Than Exercise For Living Past 90" (archived here) which opened:
No one plans on living forever, but most of us would like to live as long as possible.

The idea of adding more candles to the birthday cake every year sounds amazing. We're here with some good news. You might actually be able to do so with a glass of wine.

Scientists have tried to find the secret to longer life throughout the years, but a 2003 study in particular was named The 90+ Study.

This study focused on the oldest of the old to figure out what has kept them going for so long.

Researchers used the data from a 1981 study, named The Leisure World Cohort Study (LWCS) when14,000 participants were mailed surveys that they had to fill out.
Call us old-fashioned, but a 2003 study with 1981 data can hardly be called "new" in our opinion.
Users on social media only saw this title, description and thumbnail, which makes a definite claim in the headline:
Exercise is still important though!
It then goes on to quote the researchers as saying:
"Using data from our 1981 survey, people who consumed one to two glasses of [beer, wine, or liquor] per day had 9-15 percent lower likelihood of dying compared to those who abstain from all forms of drink. Participants who exercised 15 to 45 minutes a day in 1981, cut the same risk of mortality by 15-35 percent."
In other words, the people who excercised had less risk of dying compared to the people who didn't drink. The exact opposite of what the headline of the article promised.
The actual study can be found here. The major findings were summarized as:
People who drank moderate amounts of alcohol or coffee lived longer than those who abstained.
People who were overweight in their 70s lived longer than normal or underweight people did.
Over 40% of people aged 90 and older suffer from dementia while almost 80% are disabled. Both are more common in women than men.
About half of people with dementia over age 90 do not have sufficient neuropathology in their brain to explain their cognitive loss.
People aged 90 and older with an APOE2 gene are less likely to have clinical Alzheimer's dementia, but are much more likely to have Alzheimer's neuropathology in their brains.
So yes, there did seem to be a benefit to moderate alcohol consumption but as even the Higher Perspectives story indicated the effect was not bigger than having some excercise.
NewsGuard, a company that uses trained journalist to rank the reliability of websites, describes higherperspectives.com as:
A site focused on relationship, lifestyle, and health advice that often neglects to cite sources and has mischaracterized results from published research.
According to NewsGuard the site does not maintain basic standards of accuracy and accountability. Read their full assessment here.
We wrote about higherperspectives.com before, here are our most recent articles that mention the site: