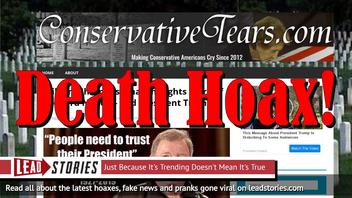 Did actor William Shatner die? No, that's not true: a death hoax about the actor who is best known for his role of James T. Kirk in Star Trek was published by a liberal satire weblog in order to trick conservatives and Trump supporters into liking and sharing fake news.
The story originated from an article published by Conservative Tears on January 9, 2019 titled "William Shatner's Final Thoughts Were of Leonard Nimoy - and President Trump" (archived here) which opened:
William Shatner died this afternoon at 92-years-old at a Hospice in St. Cloud. His friends and family were by his side as he took his final breath. His son, James Kirk Shatner, told World News Daily Report that his father's final words were happy memories of his youth with Leonard Nimoy and his golf outings with President Trump:

"Bill loved to play with Trump, because Don would always let him win. We used to hang by the Golden Tee machine at the 9th Hole Cantina at Bedminster and he'd tell me he couldn't let himself beat someone as cool as TJ Hooker. He was a bit delirious, but he thought it was cute that Trump thought it was TJ Hooker who played Captain Kirk. Bill got Christmas cards addressed to 'TJ' every year and he loved them. He was pretty sure it was a joke, but there on his deathbed he admitted he wasn't sure."
Users on social media only saw this title, description and thumbnail:
Captain Kirk spoke fondly of the two men.
Shatner is actually 87 years old and not dead.
NewsGuard, a company that uses trained journalist to rank the reliability of websites, describes conservativetears.com as:
A hoax website that publishes false stories about celebrity deaths.
According to NewsGuard the site does not maintain basic standards of accuracy and accountability. Read their full assessment here.
We wrote about conservativetears.com before, here are our most recent articles that mention the site: