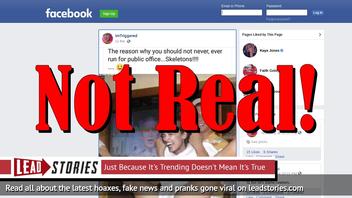 Did a photo surface of Alexandria Ocasio-Cortez in which she can be seen being held in the air by a young man while lighting a fart on fire? No, that's not true: the photo was digitally manipulated and people who believe this is some sort of "skeleton" coming out of her closet have been fooled by online pranksters.
An example of the photo appeared in a Facebook post published on February 11, 2019 (archived here). The photo had a caption on it that read: "The reason why you should not never, ever run for public office...Skeletons!!!"
Here is an example of the photo: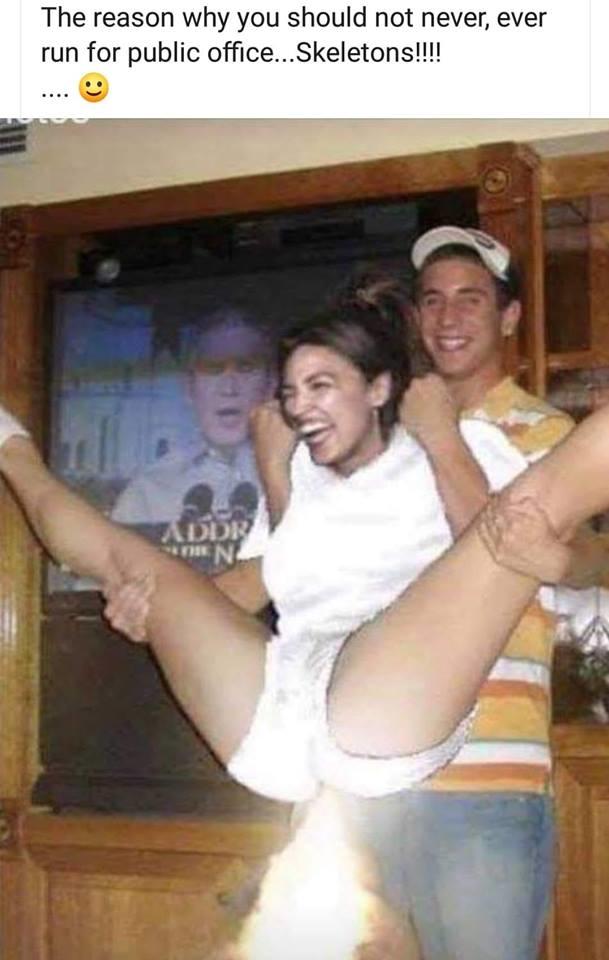 As could be expected from the terrible quality, this is not an original photo.
The original seems to be this picture which people claim is someone named Amanda Wenk (archived here):
Bryon Crawford wrote two posts documenting the internet plight of Amanda Wenk. He did it justice, so just read his blog entries. Amanda Wenk, suffering from low self-esteem due to being called "A man to wank" all through her school years, posted pictures of herself with her massive boobs on the internet and has since has become so popular that her last name has become a recognized noun, though urbandictionary also accuses her of being a butter face.
Flames were later added to the picture to turn it into a meme, here's an example from 2011 (archived here):
Houston we have liftoff Wonder what the fuel source is..?
It seems now someone has changed the color of the shirt and added the head of Alexandria Ocasio-Cortez to the meme.
The hoax was rendered more believable by the fact that real video of Ocasio-Cortez dancing in her student days surfaced last January causing a lot of fuss about nothing:
Freshman Rep. Alexandria Ocasio-Cortez is responding to people who criticized an old video of her dancing -- by posting a new video of her dancing.