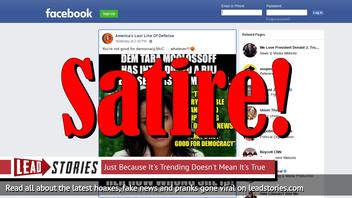 Did a democrat by the name of Tara McClossoff introduce a bill to ban seniors from voting? No, that's not true: an image making that claim was spread through a viral Facebook message put out by a satire page. Tara McClossoff does not exist.
The story originated from a post published on by a Facebook page named "America's Last Line of Defense" (archived here) with following text: "You're not good for democracy,McC .....whatever!!!😡". The text in the image itself read:
Dem Tara McClosssoff has introduced a bill to bar seniors from voting. "They're very gullible and wind up voting based on fake news. That's not good for democracy." Share to tell her how wrong she is!
This is the image in question: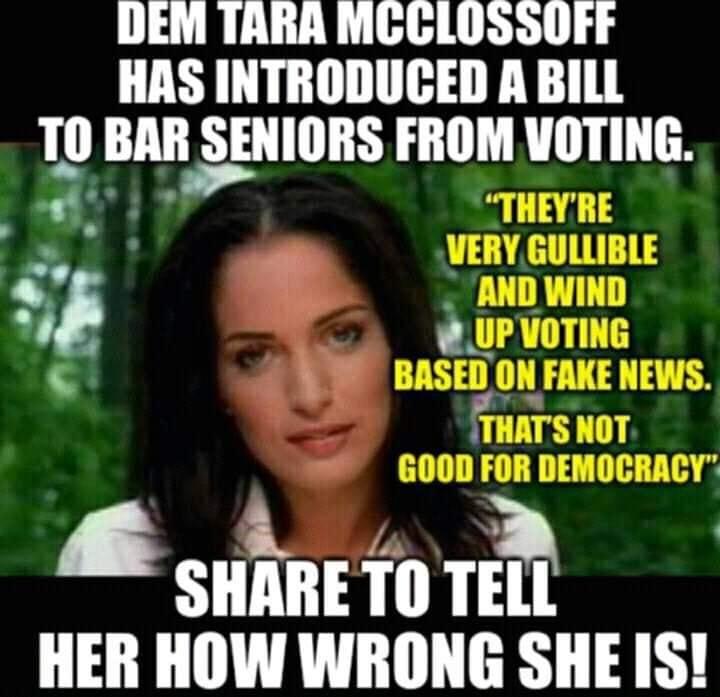 But the woman pictured is not even American. She is Canadian singer Chantal Kreviazuk:
Tara McClosssoff is just a pun that sounds like ''tear my clothes off".
The Facebook page that put out the meme has a disclaimer on the front page that says:
Nothing on this page is real. Not a bit of it. Please don't use our page in conjunction with Google or the news, it will only serve to confuse you further.
Ironically thousands of seniors unironically shared this bit of fake news as real, thus proving the point the creator was probably trying to make.