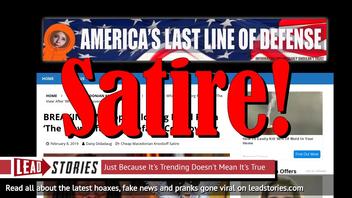 Was Whoopi Goldberg fired from The View after a "Whiteface" controversy? No, that's not true. The story was published by a liberal satire website that tries to educate gullible Trump supporters and Republicans about the need to actually click and read links before sharing or liking them in order to avoid being embarrassed by fans of the site later. All the events described in the article are not real.
The story originated from an article published by America's Last Line of Defense on February 9, 2019 titled "BREAKING: Whoopi Goldberg Fired From 'The View' After 'Whiteface' Controversy" (archived here) which opened:
Yesterday on "The View," Whoopi Goldberg criticized Republican state Senator Tommy Norment for his role in the blackface scandal that has revealed Democrats in Virginia to be who we always knew they were. Norment was the editor of the school paper, which featured multiple prominent Democrats in blackface and wearing -- unsurprisingly -- KKK outfits.

She didn't mention the Democrats, but she spoke heavily -- without interruption -- about how "it's always the Republicans who are the racists."

But today, one of Whoopi's own scandals came back to haunt her -- her 1997 Grammys entrance, which featured her in full "whiteface." This act is every bit as despicable as a white Democrat wearing blackface and posing in a photograph with another white Democrat in a Klan robe. When people finally collectively remembered what she done, there was much outrage.
Users on social media only saw this title, description and thumbnail:
Yesterday on "The View," Whoopi Goldberg criticized Republican state Senator Tommy Norment for his role in the blackface scandal that has revealed Democrats in Virginia to be who we alw...
Whoopi did indeed dress up as Queen Elizabeth I while hosting the Academy Awards in 1999:
Oscar's Host Whoopi Goldberg, dressed as Queen Elizabeth I of England, opens the 71st Academy Awards 21 March 1999 at the Dorothy Chandler Pavilion in Los Angeles, CA. AFP PHOTO/Timothy A. CLARY Vind hoogwaardige nieuwsfoto's in een hoge resolutie op Getty Images
But there was no scandal around it that caused her to get fired from The View recently as the satirical article claimed. The link supposedly going to a statement from ABC actually pointed to an image spelling out the words Fake/Fact and the link to supposed replacement host Cassandra Fairbanks pointed back to a debunk published by Lead Stories of a different hoax that actually revealed Fairbanks had been victim of sexual harrasment once:
In the course of investigating a recent fake news story we stumbled onto a tweet from last summer in which a female alt-right media figure published sexual harrasment allegations against a former boss who runs several big liberal blogs and Facebook pages.
In addition to that the article was published under the category "CHEAP MACEDONIAN KNOCKOFF SATIRE" which is quite ironic given that the article has already been plagiarized by what looks like a Macedonian fake news site named toptopic.club.
America's Last Line of Defense comes with a clear satire disclaimer at the bottom of each article:
sat·ire ~ˈsaˌtī(ə)r
noun
the use of humor, irony, exaggeration, OR ridicule to expose and criticize people's stupidity or vices, particularly in the context of contemporary politics and other topical issues.
If you disagree with the definition of satire or have decided it is synonymous with "comedy," you should really just move along.
The owner and main writer of the site is self-professed liberal troll Christopher Blair, a man from Maine who has made it his full time job to troll gullible conservatives and Trump supporters into liking and sharing his articles. He runs several other websites, including potatriotpost.us, dailyworldupdate.us and nofakenewsonline.us. Sometimes he is also known under his nickname "Busta Troll". A second man working on the sites is John Prager as revealed in this earlier story we wrote.
Articles from Blair's sites frequently get copied by "real" fake news sites who often omit the satire disclaimer and any other hints the stories are fake. Blair has tried to get these sites shut down in the past but new ones keep cropping up and he keeps knocking them down.
Blair and his operation were profiled by the Washington Post on November 17, 2018 by Eli Saslow:
November 17 The only light in the house came from the glow of three computer monitors, and Christopher Blair, 46, sat down at a keyboard and started to type. His wife had left for work and his children were on their way to school, but waiting online was his other community, an unreality where nothing was exactly as it seemed.
If you are interested in learning more about Blair and the history of his sites, here is something to get you started:
STORY UPDATED: check for updates below. Yesterday Eli Saslow at the Washington Post wrote a fantastic article about Christopher Blair, a man from Maine who has been trolling conservatives and Trump supporters online for years and occasionally even made a living out of it.
If you see one of his stories on a site that does not contain a satire disclaimer, assume it is fake news. If you do see the satire disclaimer it is of course also fake news.
NewsGuard, a company that uses trained journalist to rank the reliability of websites, describes wearethellod.com as:
A site that publishes false stories and hoaxes that are often mistaken for real news, part of a network named America's Last Line of Defense run by hoax perpetrator Christopher Blair.
According to NewsGuard the site does not maintain basic standards of accuracy and accountability. Read their full assessment here.
We wrote about wearethellod.com before, here are our most recent articles that mention the site: