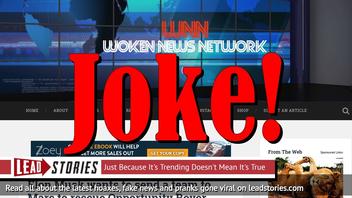 Is Elon Musk planning to send a team to Mars to rescue the Opportunity rover? No, that's not true: a satire page made up the story about the billionaire wanting to send a crew to Mars to replace the battery on the rover with something more enduring. It is not true.
The story originated from an article published by Woken News Network on February 15, 2019 titled "Elon Musk wants to send a team to Mars to rescue Opportunity Rover" (archived here) which opened:
Once again our favorite real life super hero, Elon Musk, is preparing to save the day again and rescue the Opportunity Rover. "My battery is low and it's getting dark." Last transmission from Opportunity This was the last transmission that Opportunity sent out earlier this week before ending its 15 year mission on Mars.
But the story immediately opened with a call for a petition to ask Musk to do it:
Elon Musk To Send Team Up To Get Opportunity Rover.

On Feburary 13th, 2019 - Rover Opportunity had passed away - leading the world into a Valentine's Day brokenhearted.

Woken News Network (WokenNews.com) is calling for Elon Musk to send up a team and that Rover could come down home and have the proper burial he deserves.

Forever in our thoughts,

Woken News
The site Woken News Network comes with a satire disclaimer on its about page which reads:
Woken News Network is a satirical news website strictly made for your entertainment. The majority of our articles are based on meme-culture as well as current events. Although real news events and public figures are often referenced in our articles, the stories are entirely made up. We strive to make you laugh and keep you entertained with our fictitious articles. Please take a look around the site and enjoy!
Don't rely on it for your astronomy and space exploration news...