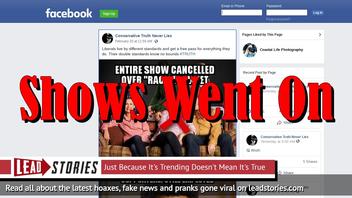 Were the consequences for Roseanne Barr and Jussie Smollett radically different when it came to their respective shows and does this prove "liberal privilege"? A viral meme is making that claim but it is not really true. Even though their situations aren't 100% comparable both of them got cut from their shows for what they did and both shows went on without them.
The claim was made in an image post (archived here) on Facebook where it was published on February 20, 2019.
The text that went with the image read:
Liberals live by different standards and get a free pass for everything they do. Their double standards know no bounds #TRUTH
Here is the image contained in the post: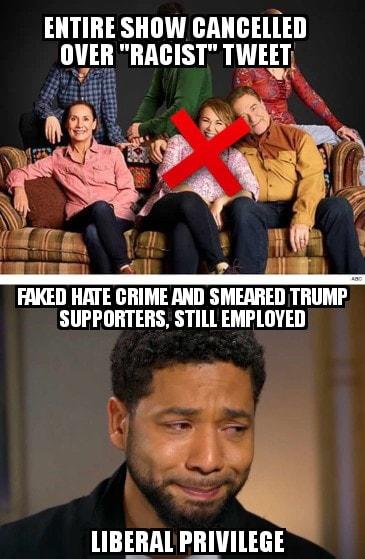 It makes two main claims:
Barr's show was cancelled over a racist tweet
Smollett was not fired after faking a racist hate hoax
At the time the image was posted (February 20, 2019) Smollett indeed hadn't been fired yet. But two days later the producers of the show he was playing in announced he was being cut from the last episodes:
Jussie Smollett's character has been removed from the final two episodes of the upcoming season of Fox's "Empire," the show's executives said Friday. "The events of the past few weeks have been incredibly emotional for all of us. Jussie has been an important member of our EMPIRE family for the past five years and we care about him deeply.
So that part of the image wasn't wrong at the time of posting (even though it is now, but that can't be held against it).
Roseanne Barr's show Roseanne was indeed cancelled over a racist tweet she made (and later apologized for):
May 29, 2018 ABC announced Tuesday that it canceled "Roseanne" after the show's star, Roseanne Barr, went on a vitriolic and racist Twitter rant. Barr appeared to take aim late Monday at Valerie Jarrett, a former adviser to President Barack Obama, in a tweet that identified the administration official by her initials: "muslim brotherhood & planet of the apes had a baby=vj."
However the show continued with the same cast and characters (minus Roseanne) under a new name ("The Conners") and with storylines carried over from Roseanne:
Created by Dave Caplan, Bruce Helford, Bruce Rasmussen. With John Goodman, Laurie Metcalf, Sara Gilbert, Alicia Goranson. Follow-up to the comedy series Roseanne (1988), centering on the family members of the matriarch after her sudden death.
That show has not been cancelled yet (although there hasn't been word about renewal for a second season yet).
Of course both incidents can't be compared on an equal basis: Roseanne was the titular character of the show and Smollett was just part of a larger cast. And Roseanne basically ran her mouth on Twitter while Smollett was charged with a felony after evidence of his actions was discovered:
February 21 Prosecutors say Jussie Smollett paid two men to help him stage a fake attack he later framed as a racist and homophobic hate crime. The "Empire" actor, who has been charged with felony disorderly conduct for allegedly filing a false police report, faces up to three years in prison.
But both of them were written out of the shows they were playing in and both shows continued (in one form or another) without them. No real evidence of privilege or getting away with things.