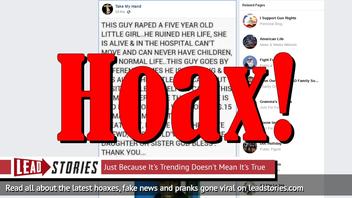 Does a Texas hospital donate 15 cents for a child rape victim's treatment everytime a post about the girl's case is shared on Facebook? No, that's not true: This is a fake message posted on social platforms starting as early as 2010, but it lives on as hoaxsters take advantage of readers' willingness to help the fictional girl with a share.
The story's most recent iteration is a post (archived here) published on March 26, 2019 by a Facebook group called Take My Hand. It opened:
THIS GUY RAPED A FIVE YEAR OLD LITTLE GIRL... HE RUINED HER LIFE SHE IS ALIVE & IN THE HOSPITAL CAN'T MOVE AND CAN NEVER HAVE CHILDREN, OR A NORMAL LIFE... THIS GUY GOES BY DIFFERENT NAMES HE IS IN HIDING & HAS AIDS. THE LITTLE GIRL CAME OUT POSITIVE. PLEASE HELP US CATCH THIS ANIMAL. EVERY TIME THIS MESSAGE IS FWD DELL HOSPITAL WILL DONATE $.15 TO MARIA'S MEDICATION & TREATMENT, PLEASE DONT HESITATE TO FWD, THIS COULD'VE BEEN YOU'RE DAUGHTER OR SISTER GOD BLESS. THANK YOU...
The post does not name the child -- other than Maria -- or the name of the alleged attacker. The photo of the alleged rapist has changed over the years.
How do we know this is a fake appeal? Dell Children's Medical Center in Austin, Texas -- the only Dell Hospital in the USA -- put out a statement in December 2010 making it clear it was not true. "A false text message has been circulating that describes an incident involving a 5-year old girl. The message states that every time you forward it to someone, Dell Children's Medical Center will donate 15 cents to cover the child's healthcare expenses. This message is spam and is in no way affiliated with Dell Children's Medical Center or the Seton Family of Hospitals. If you receive this message, please delete it." This statement is no longer on the hospital's website, but you can view it here.
Lead Stories also contacted Dell's spokesman Christopher Hill, who confirmed it is still a hoax.