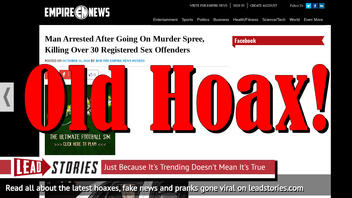 Was a 42-year old man man named Joel Miller in Omaha, Nebraska arrested after killing thirty pedophiles (or "just" registered sex offenders)? No, that's not true: the story originated from a site that has a disclaimer which says it only publishes fiction and the photo used to illustrate the story actually was taken in Glendale, California years earlier.
The story originated from an article (archived here) published by Empire News on October 25, 2016 under the title "Man Arrested After Going On Murder Spree, Killing Over 30 Registered Sex Offenders". It opened:
OMAHA, Nebraska -

A Nebraska man was arrested after he was caught in the act of strangling someone to death in an alley outside of a Omaha McDonald's, police say. According to reports, Joel Miller, 42, was arrested for assault and attempted murder, and during questioning admitted that he had killed more than 30 people already, all of them registered sex offenders.

"I've been killing pedos and perverts for, damn, close to 15 years now," said Miller. "Started when I was 26 or so, after a girl I was dating was raped and murdered. I tracked the guy down myself, slit his throat. I realized I had a real knack for it after that, so I kept going."
The website Empire News carries a disclaimer which reads:
Empire News is intended for entertainment purposes only. Our website and social media content uses only fictional names, except in cases of public figure and celebrity parody or satirization. Any other use of real names is accidental and coincidental.
The picture of the man used to illustrate the story was uploaded to Flickr in 2008 by Chris Yarzab:
Explore Chris Yarzab's photos on Flickr. Chris Yarzab has uploaded 11802 photos to Flickr.
Tags under the photo identify the location as Glendale, California although nothing is known about the man being depicted.
Later versions of the story pushed by other sites used a slightly different headline but the same picture and story:
Even in 2019 screenshots of the fake story are still being shared online as if they are real news: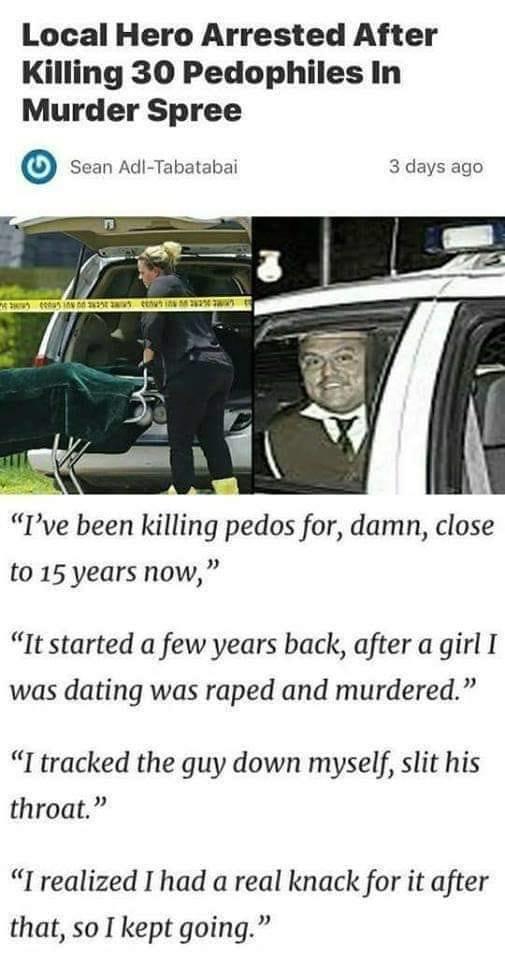 The screenshot appears to come from a version of the story published by YourNewsWire, a site famous for making up things. It was rebranded as NewsPunch a while ago and many of their more questionable stories were taken offline at the time, including this one:
A 42-year-old man from Nebraska has been arrested by police after they discovered that he murdered 30 pedophiles over the last few years. Joel Miller, dubbed a "hero" by locals, was caught attempting to kill a notorious child rapist by police who were responding to what they thought was an attempted robbery at an Omaha McDonald's restaurant.